Falklands to build a new deep-water port to cater for the oil and gas industry
Friday, October 26th 2012 - 07:06 UTC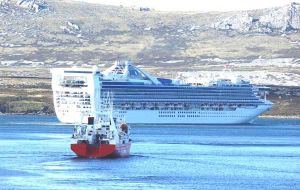 The Falkland Islands will have a new deep-water port facility capable of meeting the demands of all incumbent industries it was announced following this week's meeting of Executive Council (ExCo).
The new facilities will be constructed at Port William and will be essential for the development of the oil and gas industry since in five to six years it is assumed that production will have taken off and in the meantime hundreds of tons of equipment and materials must be transported to the South Atlantic.
The ExCo decision follows significant work by the Falkland Islands Government (FIG) over the last four months following requests by the Oil & Gas Industry for FIG to provide confirmation of what facilities will be available to meet their needs, and the timescales for the delivery of these facilities.
At the meeting, Members of the Legislative Assembly (MLAs) expressed significant concerns about the size and impact that a proposal for a permanent 250-metre extension to the existing FIPASS facilities would have on the environment and community of Stanley. This helped reaffirm for them the need to ensure port facilities are delivered in a planned and considered way.
In withdrawing support for an extension to FIPASS, MLAs instructed FIG officials to quickly bring forward proposals and with cost models for a full port infrastructure located at Port William.
"This announcement has been communicated to Rockhopper PLC and Premier Oil and will mean that alternative arrangements to support development of the Sea Lion field will need to be agreed with them" said MLA Dick Sawle.
"However, ExCo was acutely aware of its responsibility to ensure a long term vision for Stanley and the surrounding areas which is both appropriate and cohesive with our way of life. Our major concern was that while we welcome and want to support all of the Oil & Gas Industry, we need its development to happen in the right place and that is not Stanley Harbour".
Executive Council also approved the immediate investigation of the legal requirements and consequences of the creation of a Port Authority in the Falkland Islands, and further investigation of the Joint Venture led funding model with the private sector as a potential long-term strategy for funding port infrastructure.