NYSE resumes trading Wednesday despite NY transport system remains limited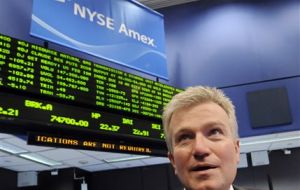 Stock markets, shuttered for two days by Hurricane Sandy's punch ashore, plan to reopen Wednesday. The New York Stock Exchange's parent company, NYSE Euronext, said trading would commence as usual with a 9:30 a.m. opening bell.
The NYSE said it was in coordination with all U.S. stock, bond, options and derivatives markets. The exchange's building and trading floor are "fully operational" despite flooding in Manhattan's financial district.
Resuming activity at the month's final trading day (Wednesday 31 October) is crucial since that is when traders price portfolios. Euronext said it plans to test a new contingency plan to help resume stalled US equity trading, and added that its famed trading floor is not yet damaged.
"We are pleased to be able to return to normal trading," Duncan Niederauer, chief executive of NYSE Euronext, said. "Our building and systems were not damaged."
Tuesday marked the first time since 1888 that the NYSE remained closed for two consecutive days because of weather. The earlier shutdown was caused by a snow storm.
Wall Street, like much the rest of the US East Coast, is struggling to overcome the paralysis wrought by Sandy, which caused crippling floods and power outages to millions. Sandy was the first weather event to close the Big Board since Hurricane Gloria did so in 1985.
Stock and options exchanges are losing 1 million dollars in transaction fees for each day they are closed because of Hurricane Sandy, according to an industry analyst's estimate.
Richard Repetto, a principal at Sandler O'Neill, said the giant storm would likely cost NYSE Euronext, Nasdaq OMX Group and the Chicago Board Options Exchange $1 million in net trading revenues each day they are closed.
But the closures of the exchanges Monday and Tuesday would likely cost a loss of a penny or less of earnings-per-share for the public companies that operate the exchanges, Repetto said in a note.
Securities and Exchange Commission spokesman John Nester said, "We have been in close consultation with the markets throughout and support their decision to reopen. We will continue to work with the markets as preparations are made."
While the NYSE, Nasdaq and other major exchanges tested their systems ahead of a reopening on Wednesday, significant hurdles remain for Wall Street.
Chief among them: How can they get to their desks — or, failing that, to a working computer among widespread power outages?
While authorities worked to clear bridges and tunnels connecting Manhattan with Brooklyn and New Jersey, the New York area's major mass transit systems remained out of commission.
Flooded subways could take days to repair — authorities have not said when the underground trains many rely on would be up and running again. Many stations near Wall Street were reportedly flooded.