Dollar plunges against the Uruguayan Peso in October; massive inflow of capital
Friday, November 2nd 2012 - 06:36 UTC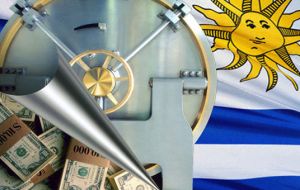 The US dollar suffered in Uruguay during October its greatest fall since January 2009 following on the increase of the Central bank basic rate to 9% at the end of September, which turned Uruguayan bonds far more attractive for foreign investors.
The inter-bank rate for the US dollar at the end of October was 19.90 Uruguayan Pesos, which means October saw the greenback slide 5.14% against the Uruguayan currency, loosing most of the ground gained during the ten months of 2012. On average the inter-bank rate during October was 20.11 Pesos, 5.15% below the September average and the greatest drop in a month since June 2003.
At the end of September and contrary to market expectations, the Central bank raised the basic rate from 8.75% to 9%, with the purpose of combating inflation, well above the annual target (4% to 6%), but at the same time made the Uruguayan rate the highest in the region with an immediate response from investors flooding the local market with US dollars.
As a consequence the Uruguayan central bank purchased 73 million dollars in October with a monthly turnover of 570 million dollars, a record for the local foreign exchange market.
Central bank stats also show that at the end of August non residents held 11% of Uruguayan debt papers in local currency, more than doubling the percentage of a year ago, 5%.
Since April when Uruguay was rated investment grade, a steady inflow of funds reached the country. Last February the percentage of debt in Uruguayan pesos issued locally and in hands of non residents was 4%, but by the end of May reached 9.1% and 11% in August,
The bank has also identified that the percentage of instruments of monetary regulation (a debt paper used to absorb liquidity and contain inflation) held by non residents doubled in twelve months, from 8% in August 2011 to 16% this year.
In a recent article The New York Times points out how attractive Uruguayan bonds yields have become in the context of a well managed economy, which is not necessarily good news for Uruguay.