Peruvian ambassador in Argentina resigns after meeting with 'terrorist group'
Monday, November 5th 2012 - 12:53 UTC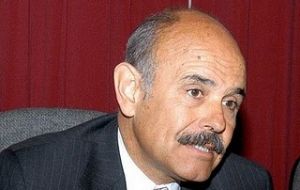 Peruvian Ambassador to Buenos Aires, Nicolás Lynch, resigned to his post after he met with members of an organization suspected to be linked with guerrilla group Shining Path, the Peruvian Foreign Ministry informed.
"President Ollanta Humala accepted Nicolás Lynch's resignation to the post of Peruvian Ambassador to Argentina," a brief communiqué stated.
Lynch tendered his resignation after media outlets reported that in March of 2012 he met with members of the Movement for Amnesty and Fundamental Rights (Movadef), which has been linked with Shining Path.
The former ambassador told an Argentine radio that members of Movadef staged a demonstration outside the Peruvian embassy in Buenos Aires and as he met them, was handed a document demanding amnesty for Abimael Guzmán, founder and leader of Shining Path, and his followers.
The Peruvian Foreign Ministry called Lynch for an emergency meeting on Friday and instructed embassies not to receive Movadef representatives and not to have talks with them.
Furthermore, the Peruvian Foreign Ministry added that Movadef is a "mere facade of the Shining Path movement, which requests an inadmissible pretension of amnesty for the leaders of the terrorist organization."
Shining Path began an armed conflict in 1980 in Peru with a death toll of over 68 thousand people, according to a report by the Truth and Reconciliation Committee.