Colombia/FARC peace talks delayed until Monday on "technical details"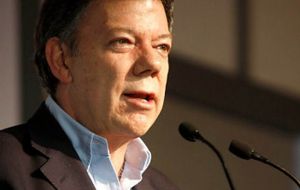 Peace talks between Colombia's government and FARC rebels scheduled to start in Cuba this week will be delayed until Monday so negotiators can work on "technical" details, both sides said on Tuesday.
The discussions, which had been set to begin on Thursday, are the latest attempt to resolve a five-decade war that has left thousands dead and millions more displaced since the founding of the Revolutionary Armed Forces of Colombia, FARC.
Negotiations promise to be complicated, with items on the agenda that will almost certainly cause roadblocks and heated discussion. The five-point agenda kicks off with an analysis of rural development.
"Delegates of the national government and the FARC agreed to continue technical meetings to finalize details of mechanisms for citizen participation," said a statement sent by President Juan Manuel Santos office on Tuesday.
"On Monday the 19th in Havana, Cuba, the negotiators will start discussion on the agreed agenda."
The statement did not elaborate on what it meant by citizen participation, but civil groups have called for the inclusion of other parties in addition to the two warring sides and mediators.
Past negotiations have been bogged down by the involvement of a range of actors pushing different agendas and played out before the world's media in a tent in Colombia's jungles.
While talks this time will be secret and the FARC comes to the table weakened, the rebels are by no means a spent force.
A decade of blows against the drug-funded group has battered it to the point that President Santos believes it will seriously seek to end the fighting. Its ranks have been cut in half and several of its toughest and most dedicated leaders have been killed or captured.
But in an effort to demonstrate that it is still relevant, the group has stepped up attacks on economic and military targets this year. Santos, who was traveling to Portugal, said that the success of the talks depended on the FARC.