Peruvian ambassador expected to return to Paraguay in near future
Tuesday, November 20th 2012 - 00:51 UTC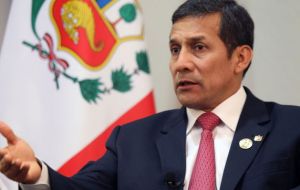 Another gap is anticipated in the diplomatic isolation ring imposed on Paraguay by Unasur and Mercosur, when as happened with Chile and Colombia, the Peruvian ambassador also returns to his post in Asuncion after several months of consultations in Lima.
Ambassador Jorge Lazaro Gelderes in the near future is expected to follow on the steps of Cristian Maquieira and Jorge Barrantes, his peers from Chile and Colombia who returned last week, according to diplomatic sources in Peru, Argentina and Brazil.
When five months ago the Paraguayan Senate impeached Fernando Lugo and overwhelmingly had him replaced by President Federico Franco, Mercosur and Unasur immediately reacted banning the country from the two regional groupings until April 2013 when the next presidential election is scheduled arguing there had been a "rupture of the democratic process".
The decision was taken without giving Paraguay the chance to defend its position (as indicated in the Unasur charter), and furthermore all members called their ambassadors from Asuncion, some for consultations (Colombia, Brazil, Chile and Uruguay) and others more radical withdrew them (Argentina, Cuba, Ecuador and Venezuela).
Despite of the decisions from Mercosur and Unasur, the other major regional grouping, the Organization of American States, following an in-situ facts collecting mission headed by its Secretary General Jose Miguel Insulza, concluded that the functioning of political institutions in Paraguay was "quite normal".
Following on the report OAS held four open meetings and two behind closed doors, and contrary to Mercosur and Unasur did not describe the situation as a 'rupture of the democratic order' or a disguised 'coup d'état'.
On the contrary it decided to support the Paraguayan political process with 26 votes in favour of the motion and only seven against. Previously only Argentina, Venezuela, Bolivia, Uruguay and Nicaragua had voted against sending the fact finding mission.
However it must be underlined that all along Colombia, in the two regional groupings had stated that in Paraguay "technically there was no coup d'état" plus there is 'no persecution' of former president Lugo or his followers.
Colombia also is a sponsor with Chile, Peru and Mexico of the Pacific Alliance, a trade block looking to the fastest growing basin in the world and which already has several significant observers such as Canada, Australia, New Zealand and even the US has shown an interest. The Alliance boasts 35% GDP of Latam and 55% of its exports.
The group basically and to a great extent contrary to Mercosur is actively open to investments, free trade, pro business and cutting into government intervention. Its stance on economics clearly makes it take distance politically from Mercosur.
Thus the return of the Peruvian ambassador when it occurs, as indicated by diplomatic sources in Peru, Argentina and Brazil, could effectively show that Unasur is divided, not necessarily split but with different positions on key issues.
For Peru it will be more difficult than for Colombia or Chile, since they currently hold the chair of Unasur, which was advanced when Paraguay's turn was skipped because of the suspension until April next year. But most probably as with Chile, Peru will argue the need to have its ambassador in Asunción to closely follow the guarantees of the political process leading to the presidential elections.