Argentina will make a plea at the Unasur summit to jointly face 'vulture funds'
Tuesday, November 27th 2012 - 22:54 UTC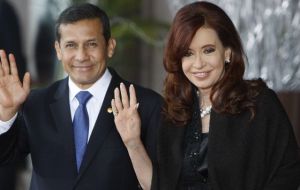 During a ceremony to receive visiting Peruvian leader Ollanta Humala Argentine President Cristina Fernández said that she would make a plea for Unasur members to come together in the fight against 'vulture funds' (hedge funds) when the region's leaders meet this week in Lima.
"The problem that Argentina is facing today regarding 'judicial colonialism' is a problem that doesn't just affect Argentina and the Southern Cone, but all of the countries of the developed world. Even more so those that are in crisis" Cristina Fernández said on Tuesday during a brief speech at Government House next to President Humala.
"I think that this is worth talking about at the Unasur summit," she furthered. "We have to give density to the issue in that environment; we have solved conflicts among neighbourly countries that could have led to armed conflicts, so it's time to give more density to the methodology of unifying positions" in these issues which pretend to divide.
She added that "it seems that in international law, the strongest has the upper hand"
Cristina Fernandez also argued that Unasur countries must have common standards and regulations for those coming to invest in mining or resources because "we are one of the richest areas of the world and we have to avoid outsiders having our countries playing one against the other to their benefit and to the loss of the development of our countries and region".
"All investors must have a common standard for the region, because they come because it is profitable but we can't give up our rights to attract them since in the long run it backfires for the region", underlined the Argentine president.
The bilateral talks held with Humala took place at midday and following that the two presidents attended the signing of several agreements related to education, combating drugs, industrial technology training and a memorandum on financial understanding.
On Monday representatives from Peru met with their Argentine peers in the framework of the Sub Committee on Economic and Financial affairs with the purpose among other issues to promote and expand trade. In the last five years bilateral trade quintupled to almost 2bn dollars.