BP suspended from new contracts with US government
Wednesday, November 28th 2012 - 18:55 UTC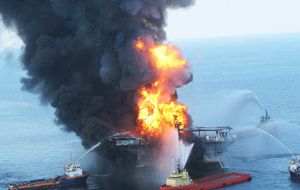 British Petroleum has been temporarily suspended from new contracts with the US government, the Environmental Protection Agency (EPA) has said. While it is unclear how long the ban will last, it follows BP's record fine earlier this month over the 2010 oil spill in the Gulf of Mexico.
EPA said it was taking action due to BP's "lack of business integrity" over its handling of the blow-out, but BP said it had spent 14bn dollars on its response to the spill.
"The BP suspension will temporarily prevent the company and the named affiliates from getting new federal government contracts, grants or other covered transactions until the company can provide sufficient evidence to EPA demonstrating that it meets federal business standards," said the EPA in a statement.
"Suspensions are a standard practice when a responsibility question is raised by action in a criminal case."
The EPA and BP both said that the temporary ban would not affect existing agreements BP has with the government. The oil giant added that the suspension may in fact be lifted quite soon.
"The EPA has informed BP that it is preparing a proposed administrative agreement that, if agreed upon, would effectively resolve and lift this temporary suspension," BP said.
"Over the past five years, BP has invested more than 52bn in the United States - more than any other oil and gas company and more than it invests in any other country where it operates. On top of this business investment, BP has to date spent more than 14bn in operational response and clean-up costs".
Since the Deepwater Horizon accident, the US has granted BP more than 50 new leases in the Gulf of Mexico, where the company has been drilling safely since the government moratorium was lifted. For now, BP is to be excluded from the lease of new exploration fields in the Gulf of Mexico, some 20m acres that was auctioned on Wednesday.
Congressman Ed Markey, a senior member of the Natural Resources Committee in Congress, said: "When someone recklessly crashes a car, their license and keys are taken away."
"The wreckage of BP's recklessness is still sitting at the bottom of the ocean and this kind of time out is an appropriate element of the suite of criminal, civil and economic punishments that BP should pay for their disaster," he added.
BP's finance director Brian Gilvary told investors earlier this month that the group would have to rethink its entire US strategy were a blanket ban put in place.
The US is vital for BP, accounting for more than 20% of its global daily production. It has ploughed more than 52bn into US energy development projects since 2007, more than any other country BP invests in.
The UK company was the biggest fuel supplier to the US Department of Defence, which awarded it contracts valued at about 1.35bn in 2011. BP's contracts with the US military jumped 33% over a year in 2011, according to data from Bloomberg. The group was awarded a fuel contract in May from the Pentagon while it faced mounting legal costs over the disaster.
The Deepwater Horizon accident, in which an oil rig exploded killing 11 people, caused one of the worst oil spills in history. BP has pleaded guilty to 14 criminal charges over the accident.
In related news BP has sold its stakes in several North Sea oil and gas fields to a state-owned Abu Dhabi energy group for 1.06bn dollars. The proceeds from BP's sale will help cover billions of dollars in costs from the 2010 Gulf of Mexico oil spill.
Abu Dhabi National Energy (Taqa) will acquire stakes in the BP-operated Harding, Maclure and Devenick fields.
Carl Sheldon, chief executive of Taqa, said the billion-dollar deal, which is to be completed in 2013, would add 21.000 barrels of oil equivalent a day to its output, establishing the Abu Dhabi group "as a leading operator in the UK North Sea".
The acquisition is made up of BP's interests in both mature and newly developed projects including Harding (70%), Maclure (37.03%) and Devenick (88.7%) fields in the central North Sea, as well as BP's non-operated interests in the Brae fields complex and the Braemar field.
The disposed assets produce 40,000 barrels of oil equivalent a day, or nearly a quarter of BP's UK production, according to Peter Hutton, an energy analyst at RBC Capital Markets.
The UK government in September unveiled a tax break for oil and gas companies in a bid to reverse a decline in exploration and production in an industry which employs more than 300,000 people.
"While new tax allowances have made investment in a range of challenging fields more attractive to investors, the current wave of activity comes with the expectation that the government will deliver certainty on tax relief on decommissioning," said Mike Tholen, Oil & Gas UK's economics and commercial director.
"We look forward to hearing more on that front" in the chancellor's Autumn Statement on 5 December, he added.