Argentine Coast Guard arrests two Chinese jiggers off Puerto Madryn
Thursday, December 27th 2012 - 02:24 UTC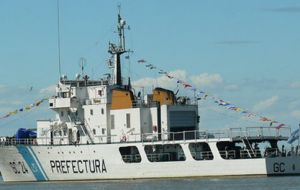 The Argentine Coast Guard arrested on Christmas after fining some intimidatory shots, two Chinese flagged jiggers illegally fishing in Argentina's South Atlantic Economic Exclusive Zone off the Chubut province coast, according to an official report released Wednesday.
Jiggers Lu RONG YU 6177 and Lu RONG YU 6178, originally from the port of Shidao, China, were caught red-handed approximately 400 kilometres from Puerto Madryn by the Coast Guard vessel "Thompson" which tried several times to establish radio contact with them and according to international protocol.
However the jiggers insisted in not answering and it became clear they intended to flee from the Argentine EEZ to avoid being arrested. GC 26 Thompson started to chase them and fired intimidatory shots, which finally convinced the jiggers to halt.
A boarding party visited both vessels and discovered that LuRongYu6178 had seven tons of frozen squid while the sister vessel LuRongYu6177 .
The vessels are being escorted to the port of Comodoro Rivadavia where they will be informed by the federal court of the crimes committed and the fines to which they are exposed.
LuRongYu6177 is 41 metres long, 7.60 wide and has a crew of 19, while her sister, LuRongYu6178 has a crew of 17. Both had left China on 23 October 2012