Argentina charters private UK plane for Cristina Fernandez next tour to avoid legal surprises
Tuesday, January 8th 2013 - 00:07 UTC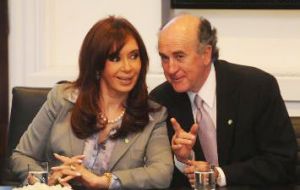 The Argentine government issued a statement in response to a recent piece published on the British tabloid "The Sun", and assured that President Cristina Fernández will fly in a private plane on her next tour to avoid a potential impounding of the official presidential plane by vulture funds.
In a written statement signed by the Presidential spokesman, Oscar Parrilli, the Argentine Executive explains that "they were presented with six offers, all of them of very similar value, and decided to hire Chapman Freeborn, a British company operating from the Gatwick Airport in England, because it was the most convenient from an operational, economic and financial point of view."
The company had already been hired in the past by the Presidential office in 2010 and 2011 for the President's travels to Guyana, Madrid, Paris, Barcelona and Cannes.
In the same statement, Parrilli details that "the total cost of the operation is 880.000 dollars, which includes all costs and expenditures of a trip to four different countries, and is close to 20% higher that the cost of using the Tango-01."
The Sun had recently published a story detailing an "ultra secret arrangement" to hire a luxury plane from a British company for Cristina Fernandez' tour to the United Arab Emirates and the Far East, Indonesia and Vietnam, scheduled to begin "next Sunday".
Cristina Fernandez leaves Argentina on Wednesday after receiving in Mar del Plata the Navy's flagship ARA Libertad that was impounded and retained in Ghana for 78 days, on request from a New York court order benefiting a hedge fund.
Parrilli added that on 26 December the Legal Department from the Ministry of Foreign Affairs recommended that the Presidential T-01 should not be used for the trip given the aggressive attitude of the 'vulture funds' with Argentina, since it was considered that impound or precautionary measures against the aircraft were highly probable. The position was shared by the Treasury Attorney and the chief of Military Attachés.
Finally Parrilli recalls that the sensationalist yellow daily The Sun belongs to Rupert Murdoch "condemned for illegal tapping and the publication of false and fabricated news related to British actors, personalities and politicians, "openly benefiting the electoral campaign of PM David Cameron, to the extent that several officials from his cabinet had to resign given the scandal and complicity".