Eleven million Argentines surviving on 7 dollars per day, according to Indec
Saturday, January 12th 2013 - 12:32 UTC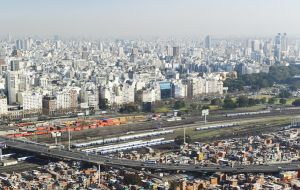 Three Argentines out of ten living in urban areas, an estimated 11.1 million people must survive with less that 35.5 Pesos per day or 1.067 Pesos monthly, according to data from the latest Standing homes' survey, performed by the country's stats office Indec.
The data belongs to the third quarter of last year and includes all income from occasional or permanent jobs, pension, government handouts or allowances and any contributions in money or kind.
This based on the official exchange rate is equivalent to 7,25 dollars per day or 4,89 dollars according to the parallel market (4.95 and 7.25 Pesos to the US currency.
If the 30% is broken up into three equal thirds it works out that 3.7 million live on less that 17 Pesos per day; a second third have 17 to 26 Pesos and the rest 16 to 35.5 Pesos, according to an interpretation of the data available.
This on average means that 11.1 million Argentines must survive on 21.5 Pesos per day or 650 per month with a total family income of 2.800 Pesos. The families on average are plus-four and include adults, teenagers, children and elderly members, show Indec numbers.
In geographic terms the northern provinces of Argentina are the most vulnerable. In the extreme south although the family average income is higher the cost of living is also dearer.
According to Tierra del Fuego Stats and Census office the basic basket for a family with two children averages 8.500 Pesos per month or 283 Pesos daily.
Social security data also shows that the Argentine treasury pays 1.2 million non-contribution pensions per month; 4.5 million children and pregnancy allowance and over a million government supported jobs. Another two million are on 'moratorium' pensions whose recipients must continue to contribute.
According to the last census the Argentine population stands over 40 million.