Ashton praises Peru for its inclusion policy and fighting child malnutrition
Thursday, January 24th 2013 - 08:08 UTC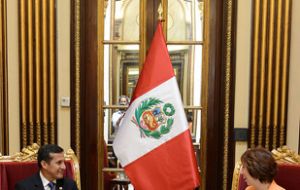 The European Union's High Representative for Foreign Affairs, Catherine Ashton, highlighted the "important role that Peru is playing in the Latinamerican region," assuring that Peru will participate "very constructively" in the EU-CELAC (Community of Latin American and Caribbean States) summit, in Santiago de Chile, on 26-27 January.
The EU/CELAC summit theme will be 'Working together for growth and sustainability'.
Ms Ashton arrived in Lima on Tuesday and after a meeting with Peru's President Ollanta Humala, she told reporters that the Santiago meeting would also discuss drug trafficking, social inclusion and climate change.
The high representative welcomed the trade agreement between the EU, Peru and Colombia, ratified by the European Parliament last December and set to enter into force in February. She noted the importance of "focusing on small and medium-sized businesses".
Ashton highlighted the work of the Peruvian government to turn economic growth, one of the highest in the region, into equity and social inclusion and in this context underlined the fight against child malnutrition that envisions a "good future" for Peruvian society.
From Peru the EU foreign affairs chief flew to Chile where she participated in Santiago, in the Euro-Latin American Parliamentary Assembly (EUROLAT) and is scheduled to co-chair a meeting, on Thursday of Latin American and Caribbean foreign ministers, as well as the EU-Brazil summit.