Iran/Argentina agreement to Congress but Jewish community reject contents demand a new one
Friday, February 8th 2013 - 05:04 UTC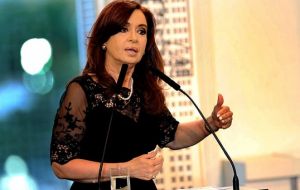 Argentine President Cristina Fernández announced she would send to Congress the recent agreement reached between Argentina and Iran in order to investigate the AMIA bombing in 1994, and assured that "the Argentine Justice will not be obstructed."
"This agreement will help us move forward with this case and walk along the road to finding the truth," she expressed in a pre-recorded message from the presidential office in the Government House.
However the agreement has become controversial from the moment the AMIA organization, contrary to when it was first officially announced, has rejected the deal, which includes the creation of an independent international 'truth commission', and is demanding the redrafting of a new accord.
Cristina Fernandez added that the accord, drafted by a committee of international legal experts, "is legally non-binding" and added that "the Argentine Justice will not be obstructed. We are not giving up our sovereignty."
"This is a very important step in a case in which we had no chance of interrogating those we accused of taking part" in the terrorist attack, she explained. Before closing, she stressed that "Congress has the last word" on the agreement.
"It will be sent to Congress so it can be analyzed" and lawmakers can decide "whether it should be passed or not," warning that "they are all obligated to take a stand on this matter."
"I want to spare the families of the victims from the pain, and this country from the shame, and fundamentally find the road to move forward with a case that not only has been paralyzed for 19 years, it has also been moving backwards," the President explained.
She concluded her 40-minute message by assuring that she is greatly committed to the AMIA cause.
The AMIA Jewish community centre in Buenos Aires was bombed by terrorists in 1994 leaving 85 people dead and hundreds injured. The case has remained unsolved ever since.
But AMIA president Guillermo Borger confirmed rejection of the deal which was also seriously questioned by Israel and the United States, particularly those chapters referred to the questioning of Iranian officials allegedly involved directly or indirectly in Argentina's bloodiest terrorist attack.
"We need to re-draft the document, we need a new one, even when it takes time" insisted Borger who described the current deal as untimely and done without consulting the Jewish organizations, victims of the attacks.
"Iran is theocratic, unreliable, can't be trusted, fundamentalist and denies the Holocaust. My mother has the concentration camp number stamped in her arm, so they can't tell me the holocaust never existed. We do not accept Iran as a partner to trust, and much less when it comes to signing deals", added Borger.