Argentine Jewish community rejects point blank agreement with Iran; full Senate debate on 21 February
Friday, February 15th 2013 - 05:45 UTC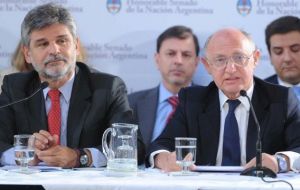 The heads of the AMIA and DAIA Jewish umbrella organizations, Guillermo Borger and Julio Schlosser, strongly rejected the memorandum of understanding signed between Argentina and Iran in order to create a truth commission looking to investigate the 1994 terrorist attack that left over 80 people dead and dozens injured.
During their contributions to Congress on Wednesday, the Jewish leaders did not accept Foreign minister Héctor Timerman's statements and repeated they will reject the agreement.
"As it is drafted, we cannot support it," Schlosser said, and added that their rejection is not based on disagreements with the Government, but on their distrust of Iran as a valid speaker.
At the same time, Borger said "this is not a step forward, it's a step backward. In any case, if this is a step forward, it's a step towards a cliff."
He also ratified his belief that this opens the doors to another attack in Argentina, although he clarified that he has no specific information of a new attack.
Also attending the hearings in Congress was Laura Ginsberg from the Grouping to shed light on the AMIA massacre, who said that the understanding memorandum between Argentina and Iran "is a lie, it's not going to solve the case, on the contrary it's going to ensure impunity".
"What happens if the commission says there is sufficient evidence to sentence? Dead end. And if it states that there is evidence? Iran is going to say that the accused will not move from Iran. And the Argentine government is going to say it did all it could", said Ms Ginsberg who had serious exchanges with Senator Daniel Filmus chairman of the three commissions plenary (Judiciary, Foreign Affairs and Constitutional affairs) and with Miguel Angel Piccheto, President Cristina Fernandez strong man in the Senate.
Senator Piccheto insisted in giving the understanding with Iran a chance, and recalled the Lockerbie case (bombing of a Pan Am Jumbo over Scotland) when UK and the US sat to talk with Libya despite the fact that Muammar Gadaffi was labelled a terrorist.
But Ms Ginsberg, a widow from AMIA, claimed the Argentine government insists in "keeping secret" the archives of the AMIA bombing and the 19 years since then.
"We propose naming a commission, independent from the State that can advance over those responsible, the main responsible, and that is the Argentine state, because the police, the intelligence services, the Judiciary did their most to cover up the attack", accused Ms Ginsberg.
"I was threatened several times for trying to have access to intelligence services documents, and have been followed because of my activities. The Iranians or Hezbollah had their local accomplices and that is more important to uncover, to bring to light. The complicity of Argentine security and intelligence was horrendous", added Ms Ginsburg before walking out of Congress.
The plenary with ample government support approved the memorandum of understanding that will now be debated by the whole House next February 21