Falkland Islands' referendum described by Cristina Fernandez as a "squatters condominium meeting"
Wednesday, March 13th 2013 - 04:02 UTC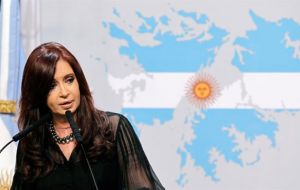 Argentine President Cristina Fernández rejected the referendum held at the Falklands/Malvinas Islands, and assured it "was a parody" likening to a "squatters' condominium meeting" who illegally live in an occupied territory.
The president made her remarks on Tuesday during the presentation of a "Science, Technology and Innovation National Plan: Innovating Argentina 2020" at the Government House, Casa Rosada.
On Sunday and Monday Falkland Islanders overwhelmingly voted to remain a British Overseas Territory (99.8%), out of a record 92% turnout.
On comparing the referendum to a 'squatters' meeting' she added it all looked like they were "deciding if they were going to occupy the building or not."
President Cristina Fernandez also underlined the position of the US government regarding the conflict. "We recognize a sovereignty conflict," Obama's administration stated and encouraged the dialogue between Argentina and the UK.
From London, Argentine ambassador Alicia Castro dismissed the Falklands referendum held by Islanders saying it is "a ploy that has no legal value". Furthermore, the diplomat insisted that the referendum is a media tactic that shows how weak the United Kingdom's position on the matter is"
"It's a referendum organized by the British and for the British with the only purpose of having them saying that the territory must be British. It was neither organized nor approved by the United Nations", Castro told FM Millenium.
Likewise, the Ambassador considered that the outcome "only represents the opinion of some 1,600 British citizens against the millions and millions of people that recognize Argentina's sovereignty over the Malvinas".
"We totally understand the Islanders trying to ratify their identity: They are British and so the British law recognizes them. Argentina is not trying to change their identity or their life style, but the territory they live on is not theirs. And there is one right they do not have, and it is the right to decide over the destiny of Argentina's territory or resolve a sovereignty issue" added Ambassador Castro.
The Argentine diplomat explained that self-determination is a fundamental principle contemplated by international law that but is not granted to any settlers of a certain territory, but only to the original natives that were or currently are being subjugated to a certain colonial power, "and this is not the case of the Malvinas Islanders."
"The Islanders are not a colonized people, but inhabitants of a colonized territory. Plus, Islanders are not part of the sovereignty dispute since the sovereignty claims are over the territory and not them" concluded Castro.