Falklands' referendum to be condemned by Argentina's congress two Houses
Wednesday, March 13th 2013 - 03:58 UTC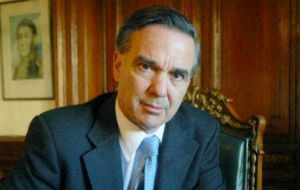 The Argentine congress is holding on Wednesday an extraordinary session to strongly reject the resounding Falklands/Malvinas referendum in which the Islanders overwhelmingly voted to remain a British Overseas Territory. Two statements have been drafted and will be discussed simultaneously at the Lower House and the Senate.
The Legislative will thus express Argentina's position regarding the referendum that took place last Sunday and Monday when 92% of Islanders turned out and supported the Yes vote to remain British by 99.8%.
It is one of the very few issues in which the ruling coalition of President Cristina Fernandez and the opposition hold a similar position, arguing that the ballot in the Falklands is not valid for the international legal framework and thus the strong rejection anticipated from both Houses.
The Senate declaration draft has the sponsoring of the president from the leading block, Miguel Angel Picchetto, his peer from the Foreign Relations committee Daniel Filmus plus Ruben Giustiniani and Jaime Linares from the senior opposition group, Progressive Front and Ernesto Sanz from the junior opposition Radicales.
The initiative was originally drafted by Giustiniani who requested a special session from the Upper House to strongly reject the Falklands referendum and "expose the trap which hides the image of a popular participation in the case of an implanted people".
In the Lower House the initiative belongs to lawmaker Juan Pablo Kosiner from Cristina Fernandez group who argued that "the draft declaration rejects the validity of the ballot stating that the Falklands population are in their origin British".
"The Malvinas case is not covered by the principle of self determination of the peoples, but rather is a case of gross colonialism in coincidence with what has been established by the UN in multiple resolutions", said Kosiner.
The Argentine lawmaker added that the referendum "dos not relieve the UK from complying with international law obligations imposed to resolve the sovereignty dispute, by the resumption of negotiations".
"It was not supervised by the UN and will not be considered by the international organization, whose resolutions insist on a negotiated solution to the dispute", concluded Kosiner.