Falkland Islands' referendum, Argentina should yield to reality and peoples' self determination says Brazilian daily
Thursday, March 14th 2013 - 09:14 UTC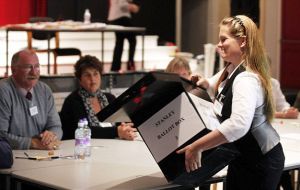 Under the heading of "Malvinas: British" the influential Brazilian newspaper Folha de Sao Paulo describes the 99.8% result of the Falklands referendum as a "compelling defeat" for the Argentine government and a litigation hard to sustain when international law rests more on the peoples' perspective than in the historic, real or imaginary territorial possession.
"The referendum is a compelling defeat for the Argentine government which, particularly when the economy is not working elevates the understandable tone of the sovereignty claim over the Islands", says the editorial.
Thus the litigation is difficult to sustain nowadays "in which international law rests more on the peoples' perspective than in the historic, real or imaginary territorial possession. Particularly for a government that considers itself popular such as the one of Cristina Kirchner, it is not trivial to stand up against the principle of self-determination".
But it seems unlikely the results will impact the Argentine pretensions since government officials have described the referendum as illegal and they do not recognized the 'kelpers' as Islanders are called, as a legitimate part of the dispute.
The editorial then argues that the core of the problem is nationalism which triggers emotional reactions. In the 1982 conflict the Argentine generals hoping to extend the life of their decaying dictatorship appealed to a common cause to unite the country, to the extend that even the left wing organizations, massacred by those same military, applauded and joined the tragic adventure.
Likewise nobody was expecting that the virus of nationalism would spread to the British under Margaret Thatcher and would react militarily to preserve some Islands at the time with no major economic or strategic value.
The Task Force did not have much difficulties defeating the Argentines and recovering the Islands but after 74 days of combat, the death toll was 649 Argentines, 255 British and 3 Islanders.
The economic cost reveals the irrationality of that war: to recover national price Thatcher spent over a billion pounds which according to economist Robert Frank would have been enough to grant each 'kelper' a farm in Scotland and a generous pension for life.
Finally the editorial emphasized the significance of 'self determination' nowadays, arguing that since fortunately the probability of another war is remote "the region would be more secure if all sides yield to the imperatives of reality and to the principle of peoples' self determination and would change the aggressive rhetoric for common sense and pragmatic negotiations. And if it is true that there is oil in the region, it makes even more sense to reach an economic agreement with gains for both sides".