Argentina expanded 1.9% in 2012; saves 4bn dollars on GDP-growth linked bonds
Saturday, March 16th 2013 - 03:31 UTC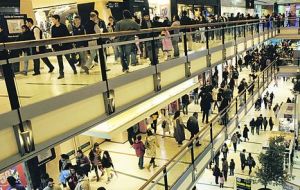 Argentina's GDP expanded 1.9%, following an increase of 2.1% in the last quarter of 2012, compared to the 8.9% of 2011, according to the official but questioned national stats office Indec release on Friday.

The expansion in the last three months of last year was driven by 4.2% year-on-year growth in the services sector, which outweighed a 1.9% contraction in manufacturing added the release. The fourth quarter expansion came in at 1.3% over the third quarter.

Private consumption in Argentina rose 4.5% year on year in the fourth quarter of 2012 versus a 2.1% in the third quarter, the government's INDEC statistics institute said.

On Friday also Moody's Investors Service cut the credit rating on Argentine sovereign debt governed by foreign law to Caa1, citing increased risk of a default due to a US legal case involving investors who declined to participate in the country's 2005 and 2010 restructuring of defaulted obligations.

The announcement from Moody's comes a few days before a US federal court in New York rules on a demand from Argentine (2001) defaulted sovereign bond holders who are requesting full payment plus interests, since they did not accept the 2005 and 2010 restructuring.

Argentina argues that complying with the holdouts would mean letting down the 93% of other bondholders who accepted the restructuring process. Nevertheless Argentina in a sign of good faith advanced it is prepared to extend similar restructured conditions to the holdouts.

Argentina is widely accused of manipulating inflation data and, to a lesser extent, growth data. It faces potential sanctions by the IMF, which last month issued a "declaration of censure" against Argentina over the quality of its inflation and GDP data.

In effect the full year GDP growth figure, a substantial slowdown from the 8.9% expansion in 2011, was expected by analysts and creditors holding growth-linked GDP warrants issued during the country's 2005 and 2010 debt restructurings.

The warrants pay out only when growth tops a certain threshold. If 2012 growth had exceeded 3.26%, Argentina would have been obliged to pay roughly 4 billion dollars on the warrants in December of this year.

Argentina's international bonds underperformed the rest of the market on Friday, widening by 8 basis points while the JPMorgan Emerging Markets Bond Index Plus widened only 2 basis points. Wider spreads reflect higher perceived risk.