Falklands: UK recalls that Vatican policy is they have no role to play in the dispute
Tuesday, March 19th 2013 - 02:27 UTC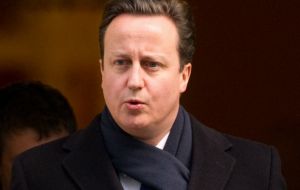 The United Kingdom played down the request made by Argentine President Cristina Fernández to Pope Francis to intervene in the Falklands/Malvinas Islands sovereignty dispute and recalled the recent referendum with an overwhelming support from Islanders to remain a British overseas territory.
The British Foreign Office said on Monday that Britain does not expect the pontiff to intervene in the Islands dispute, and remembered that the Islanders have recently confirmed overwhelmingly their will of remaining as a British Overseas Territory in a referendum performed in the South Atlantic archipelago.
A spokesman of the British Foreign Office indicated that the United Kingdom "does not expect the Vatican's stance on the Falklands case to change after the request made to the pontiff by President Cristina Fernández de Kirchner."
Likewise, the spokesman remarked that "The Vatican has been very clear about this matter, indicating that the Falkland Islands [Malvinas] dispute is between two free nations and they [Vatican] have no role to play. And we do not expect them to change that position."
Cristina Fernández has repeatedly demanded that Britain begin negotiations over the sovereignty of the Islands the two countries went to war over just over 30 years ago, when Argentine military invaded and occupied the South Atlantic archipelago, a demand rejected by the British government.
The Foreign Office had also made its position clear last week by issuing a friendly warning on the matter when a spokesman said "We wish Pope Francis every success in his papal duties. Our position on the Falklands remains, as ever, that the people who live there should be free to determine their own futures".
Later in the week and following reports in the Argentine press, repeated by the UK media, that Archbishop Jorge Mario Bergoglio had when meeting Malvinas veterans blessed them and stated that the "Malvinas son argentines", led PM David Cameron to refer to the issue.
"I disagree with him (the Pope), respectfully" said the British PM underlining that residents of the Falklands had made it clear in the referendum that they wanted to remain under British rule.
"There was a pretty extraordinarily clear referendum in the Falkland Islands" Cameron told a news conference in Brussels, where he was attending a European Union summit.
"That is a message to everyone in the world that the people of these Islands have chosen very clearly the future they want. That choice should be respected by everyone".
"The white smoke over the Falklands was pretty clear," Cameron said, jokingly referring to the signal over the Sistine Chapel that announces the successful election of a new pope.
While it was Pope Alexander VI who divided the New World between Portugal and Spain in the 15th century, there are no recent precedents for a pope becoming involved in a territorial dispute and experts believe it is unlikely he would wish – or have the time – to become embroiled in the matter.