Francis scheduled to visit Argentina, Chile and Uruguay next December
Wednesday, March 27th 2013 - 07:57 UTC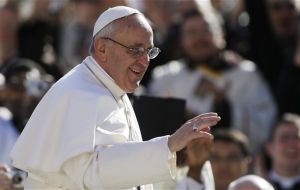 Pope Francis is scheduled to make his first official visit to Argentina, where he was born, next December 'to be close to his fellow compatriots', according to ecclesiastic sources in Buenos Aires. The visit in the first half of December could extend to neighbouring Uruguay and Chile.
However the Vatican has confirmed that Francis will be visiting Brazil next July to participate in the World Youth Congress, which will become the former Cardinal Jorge Bergoglio's first trip overseas as Pope. The event is scheduled to last from July 23 to 28.
The date picked to travel to Argentina is not without significance. It will be after the coming mid term elections in October in which President Cristina Fernandez future is to be decided since she can only have a chance of re-re-election if the constitution is modified and for this she needs the support of two thirds of the General Assembly.
Another pious and humble picture with the Pope just a few weeks before the crucial election would certainly have been 'God's hand gift', but Cardinal Bergoglio is well aware of Argentine politics as not to commit such a clumsy move.
Despite the fact that the Argentine president and her deceased husband Nestor Kirchner had a distant relation with Bergoglio when he was head of Argentina's Episcopal Conference and Buenos Aires Archbishop, since he preached openly against corruption and poverty in Argentina, Cristina Fernandez adopted a clearly conciliatory attitude towards Francis during their first private interview in the Vatican and was also strongly moved by the coronation ceremony a week ago.
According to La Nacion the Pope mentioned to Cristina Fernandez that he had to decide to travel to Argentina later in the year so as to avoid involvement in the coming electoral process.
Besides next December is the 35th anniversary of the Beagle channel peace treaty, which prevented a war between neighbouring Chile and Argentina over three islands in the extreme south of the continent. Likewise December 10 will be the 30th anniversary of the return of democracy to Argentina when a civilian government was elected after long years of military dictatorship and the collapse of the regime following the Malvinas invasion disaster.
Back in 1987 Pope John Paul II visited Argentina and also included in the tour, Chile and Uruguay.