Falklands' sovereignty belongs to the 'whole of Latinamerica' says Uruguay
Thursday, March 28th 2013 - 10:15 UTC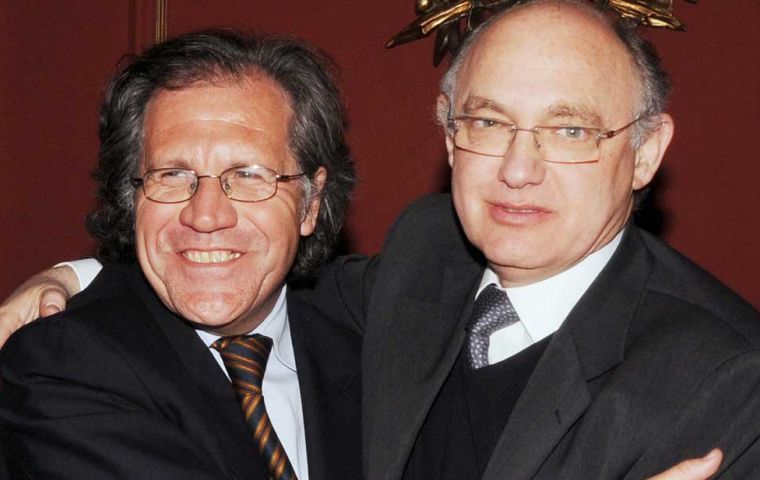 Foreign minister Luis Almagro said on Wednesday that Malvinas Islands' sovereignty belongs to the whole of Latinamerica and as part of Latinamerica and the Caribbean, "we will defend the territorial integrity of the continent".
Speaking with Uruguayan and Venezuelan media following the meeting in New York with UN Secretary General Ban Ki Moon in support of Argentina's claim over the Falklands, Almagro accused Britain of seeking to exploit the Islands' energy resources and called the referendum "dysfunctional," saying it is not right to cut off part of Argentina through a referendum.
He added that the dispute is "becoming intolerable" for Latin America and for the U.N. itself and demanded a quick solution to the dispute through diplomacy.
"The British occupation of the Malvinas is nothing else but a colonial enclave that is intolerable for Latinamerica and the Caribbean in this time and age", said Almagro adding that the recent Falklands' referendum in which Islanders overwhelmingly voted to remain a British Overseas Territory was "absurd and ridiculous".
Argentine Foreign minister praised Uruguay's position in the Malvinas issue.
"Uruguay is a true brother in the defence of Argentina's sovereignty in the Malvinas dispute with the English", said Timerman who on Tuesday together with his peers from Uruguay, Cuba and Peru met with Ban Ki-Moon at the UN.
Uruguay's Almagro attended in representation of Mercosur; Cuba's Bruno Rodriguez for Celac (Community of Latinamerican and Caribbean States) and the Peruvian official, Jose Beraún Aranibar for Unasur, Union of South American Nations.
"There are more than plenty juridical arguments in support of Argentina's claim over the Malvinas; a claim which is also supported by Mercosur, Celac and Unasur as well as the UN resolutions which the UK is determined in not respecting and complying" said Almagro.
"International law is valid for all members and we must abide by it if we pretend serious legitimate actions in the global scenario", concluded the Uruguayan minister.
Uruguay as chair of Mercosur is hosting the group's summit next June when Venezuela is expected to take over for the coming six months. Further statements from Mercosur in support of Argentina's sovereignty claim are anticipated for next June.