"Democracy in Paraguay is here to stay: Mercosur and Unasur have become irrelevant"
Thursday, April 18th 2013 - 21:39 UTC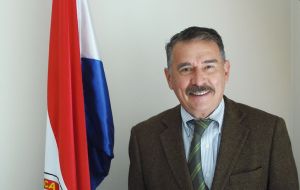 "We're optimistic about Sunday's election and the future of Paraguay if we can agree on long term state policies, but something is for certain: democracy in Paraguay is here to stay" said Ricardo Caballero Aquino, Chargé d'affaires of the Paraguayan embassy in Montevideo who was also positive about future relations with Unasur and Mercosur.
In an interview with MercoPress interim ambassador with a long journalist and writer's experience said Paraguay is going through an exceptional period of democratic consolidation, of transparency, freedom of expression and of the press which augur a good future for the country's institutions and strongly supported by an extraordinary performance of the economy which is forecasted to expand between 12% and 15% this year.
On Sunday 3.5 million Paraguayans will be voting for a new president, vice-president, 45 senators, 80 Lower house members, 17 governors and 18 representatives to the Mercosur parliament.
The main candidates are Horacio Cartes from the hegemonic Colorado party that for decades dominated the country and Efrain Alegre from the Liberals who with their former ally ex-bishop Fernando Lugo defeated for the first time in 2008, the divided Colorado block.
"The presidential election is going to be closer than what the polls have been suggesting, but this is positive because be it with the return of the (conservative) Colorados or the continuity of the Liberals, it is a return to traditional Paraguayan politics with a great difference: the communications explosion, the social networks which establish limits and even controls to whoever is in office; our vices and sins from our traditional way of making politics won't be easy, they will change, are changing and the new generations are growing in a scenario of freedoms", said Caballero Aquino.
Precisely "this week's visit of (Liberal) candidate Alegre to Uruguay for a picture with President Jose Mujica, was to try and influence the still undecided voters, mostly young educated who tend to prefer a left-leaning candidate, and Mujica is good for that".
The interim ambassador also talked about the previous government of Fernando Lugo who was removed from office in June 2012 following impeachment and replaced by Vice-president Federico Franco, which led to Mercosur and Unasur claims of 'parliament coup' and suspended Paraguay until the next general election, April 21.
"This 'leftish' experience was enough for the Paraguayan electorate which is mostly a conservative society. Lugo did not show persistence, he never understood the presidency and was left on his own when the tried to ignore political agreements and had a complacent attitude towards the invasion of private land and some extremist groups", he added.
"Imagine, organized groups with families, allegedly peasants, turn up cut fences, invade and occupy private property and then Army trucks would arrive with food for the occupants. And in the Curuguaty tragedy which triggered Lugo's removal, the police force that went to negotiate the evacuation was unarmed and it was known that the squatters had guns, and then happened what happened (18 dead). The people said enough; the Paraguayan people do not tolerate killings, massacres. In '99 we had a similar situation, we suffered the "March massacre" and that government also collapsed".
Regarding the extremist groups, the so called Paraguayan People's Army, EPP, their actions are controlled and very limited, and "links with the Colombian FARC guerrillas have been proven: the EPP would send them a percentage of the ransom booty from kidnaps for 'strategic advice', but the Paraguayan government now has support from the Colombian government and in this field they are the best".
Caballero Aquino also recalled that this and other groups benefited from certain reluctance from the Lugo government to take action against them since they had close links with "Chavism" organizations and Venezuela was supplying Paraguay with oil in what were considered favourable conditions.
"These extremist groups with some church support talk about combating the Paraguayan oligarchy but they don't know what they are talking about: in Paraguay there is no oligarchy or families with long tradition like in Peru and Chile; here fortunes last two generations, at the most three", said the Paraguayan diplomat.
Regarding Sunday's vote Caballero Aquino anticipated they would be peaceful with all guarantees, "there might have been some fist blows but that belongs to the campaign".
Besides "we have as observers of the election three 'Nobel prizes', the OAS, the European Union and the Carter Centre…plus a former Peruvian prime minister in representation of Unasur".
At first the Paraguayan government was not convinced of allowing observers from Unasur after all "they said and ill-said about Paraguayan democracy, but finally opted to let them in. This despite the fact we had 'Chacho Alvarez' around here as a 'visiting companion' collecting information on our democracy, the same man who said the Venezuelan election was impeccable, and then CELAC (Community of Latinamerican and Caribbean states) that supposedly sponsor democracy and have free democratic Cuba as their chair".
Caballero Aquino also anticipated that in Sunday's election, and in the future, the country will not use the Brazilian electronic vote system and will return to the old ballot registry, with all the additional paper work and guarantees because "it is notorious that tracking and errors have been detected in Venezuela and even the US with the electronic experience".
As to the day after Sunday's election the Paraguayan diplomat was positive about future relations with Mercosur and Unasur.
"At the start we were concerned, disappointed by the scornful attitude of Mercosur and Unasur towards Paraguay" and the arguments alleged for suspending the country from the two groups and calling it a 'parliamentary coup' against Lugo in a summary trial.
"There was nobody that could rescue Lugo and the impeachment was not a summary trial: he had three days for his defence and even if he had had a hundred days he would have been equally removed as the Senate warned him, and 120 out of 125 votes is unquestionable".
Not only was the magnitude and dreadful management of the situation leading to the killings at Curuguaty, but Lugo also, after the incident wanted to impose his own Security minister, an outsider, without consulting the Liberal coalition and he didn't want to respect the original agreement and alternation: in 08 the coalition would support a left wing candidate (Lugo) and in 2013, a Liberal (Efrain Alegre).
"Naturally the Liberals withdrew their support and he crashed into his own isolation".
However, "we believe that with Unasur and Mercosur we can approach the situation, including the incorporation of Venezuela to Mercosur, which Paraguay considers illegitimate, although we must also say that Unasur worldwide is irrelevant and Mercosur has become a political club, a playing turf for Brazil and Argentina".
Caballero Aquino then went on to reveal that at one point President Franco contemplated abandoning these groups, but as good neighbours the idea was left aside even when the decision has been taken to approach the Pacific Alliance with Chile, Peru, Colombia and Mexico.
"The incorporation of Venezuela to Mercosur was done with forceps, because of Paraguay's suspension and it is not that dramatic after all since to make it legitimate you need the approval of the Paraguayan Senate, which I believe under the new circumstances, without Chavez who was the main objection, it can be accomplished with a new protocol and a renewed (Paraguayan) senate as of next July first", pointed out the interim ambassador.
He added that the incorporation of Venezuela to Mercosur "was an obsession of Chavez, to be president of the group, because in all the other issues they are not complying, for example they do not sign the sessions' minutes and they even missed the first meeting with the technical groups to discuss products and tariffs. Venezuela's interest is somewhere else. Brazil wanted to ensure its huge public works contracts, but that is all".
Nevertheless Caballero Aquino was emphatic as to Venezuelan President-elect Nicolas Maduro, "there is no possible understanding with him: we have him on video and on record calling our armed forces top officers and inciting them to get out to the streets in support of Lugo when the Senate was voting his removal and replacement by vice-president Franco".
Maduro at the time: June 2012 was Foreign minister and together with other Mercosur peers travelled to Asunción in support of Lugo and threatening reprisals if he was removed.
"Chavez with his ups and downs could have had a special affection for Lugo, but for us Maduro is persona non grata".
Caballero Aquino said that what really matters for Paraguay "is the acknowledgement of the European Union because during all this time negotiations with Mercosur have been suspended or frozen and they have now announced that Mercosur for next December should have its list of products to exchange ready".
This is a clear recognition to Paraguay and its role as a full member of Mercosur.
"We are grateful to the EU in all this process, and at the same time must admit that Mercosur has its problems, while the current attitudes of Brazil and Argentina persist. Although it is not clear at this stage if Brazil or rather Sao Paulo industrial hub really wants to continue with the group" affirmed Caballero Aquino.
Finally the interim ambassador revealed that he is organizing the celebration of Paraguay's national Independence Day next May 15 at the Mercosur building in Montevideo and was also grateful to Uruguayan cattle farmers' contribution to the improvement of livestock in his country.
"There are many Uruguayan ranchers who have moved to Paraguay and they are excellent cattle breeders and they've come with all their technology and this will be a great help to develop our cattle industry".