Falklands' referendum and self-determination receive support from US Congress
Thursday, April 18th 2013 - 22:11 UTC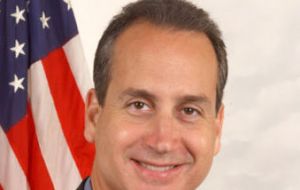 United States Congressman Mario Diaz-Balart released a statement after introducing a House Resolution recognizing the Falkland Islands referendum which was held March 10/11 with an overwhelming turnout and result.
"I commend the residents of the Falkland Islands for freely expressing their view on the political status of the Islands. As Americans, we have long cherished the principle of self-determination, and stand in solidarity with the Islanders in their choice to retain their status as a British Overseas Territory.
"The resolution I introduced along with my colleagues acknowledges that the referendum results are a clear expression of how the Islanders want to be governed, and urges that future dialogue over the Falkland Islands should include the views and wishes of the Falkland Islanders themselves.
"The small Islands' community in the South Atlantic seeks to continue living peacefully and further expanding their economy. I urge my colleagues and the international community to respect the overwhelming results of the referendum and honour the right of self-determination for free people."
Member of the Falkland Islands Legislative Assembly Mike Summers, accompanied by Penguin News journalist Teslyn Barkman, recently met with the congressman during a tour of the US and the Caribbean promoting the results of the recent referendum. Miss Barkman said, "Congressman Diaz-Balart was very sympathetic to the Falklands cause when we met with him in Miami in March."
Congressmen Bordallo (D-GU), Campbell (R-CA), Faleomavaega (D-AS), Griffith (R-VA), Hall (R-TX), Higgins (D-NY), Holding (R-NC), Marchant (R-TX), McIntyre (D-NC), Petri (R-WI), Roskam (R-IL), Ros-Lehtinen (R-FL), Ryan (D-OH), and Sensenbrenner (R-WI) Poe (R-TX) joined as original co-sponsors.
Mario Diaz-Balart is currently fulfilling his sixth term in the US House of Representatives. At the beginning of the 112th Congress, congressman Diaz-Balart was asked to serve on one of the most prestigious committees: House Committee on Appropriations. As part of the House Committee on Appropriations, he sits on three of its subcommittees: Vice-Chair of Financial Services, State and Foreign Operations, and Military Construction, Veterans Affairs, and Related Agencies. (PN)