Urgent meeting of Unasur in Lima to express support for Venezuela's Maduro
Thursday, April 18th 2013 - 10:19 UTC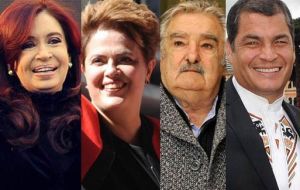 Argentine President Cristina Fernández will travel to Lima for a UNASUR meeting on Thursday in which regional countries are expected to express their support for the elections results in Venezuela and President elect Nicolas Maduro.
After the meeting the Argentine leader will travel to Caracas to attend Maduro's inauguration ceremony on Friday. Maduro succeeds Hugo Chavez who died of cancer 5 March.
The presidents of Brazil, Dilma Rousseff, Ecuador, Rafael Correa and Uruguay's Jose Mujica have already confirmed their participation in the UNASUR meeting in Peru that currently holds the chair of the regional group.
The objective of this meeting is to make a joint statement supporting elections held in Venezuela with Maduro as the new president that have been questioned by opposition leader Henrique Capriles who demands a recount of votes.
However a Unasur observers' mission during the electoral process in Venezuela did not question the vote or results.
Capriles challenge and call for street protests and the government's response with its own militants have led to clashes which caused the death of eight people and tens of injured. There are fears of an escalation of violence even when both leaders called their followers to stay at home and avoid taking to the streets.
All of South America has recognized Maduro as president elect of Venezuela but the US is still holding out precisely on the argument of the vote-recount request.
In a change of position the Organization of American States, OAS, Jose Miguel Insulza recognized Maduro as the winner of Sunday's presidential election, but at the same time asked for political dialogue between the feuding parties and condemned the acts of violence.
"We are respectful of the legal and constitutional framework of Venezuela" said Insulza who added that the Venezuelan Electoral Council "has already adopted the decision by proclaiming Maduro as the next president".
"We would have liked a more calm process, but they have taken a decision and I respect and abide that decision" indicated the head of OAS who added that "I have not changed my original opinion (of a vote recount), I believe there is a need for dialogue in Venezuela; in democracy you can win by a single vote".
"I'm convinced that a recount was good for the electoral process" underlined Insulza in reference to the first reaction of the multilateral organization, "but with a divided country we must help to build bridges".
Most European countries, which favoured a recount of votes given the minimum difference in votes, have finally recognized Maduro, including Spain that was involved in a diplomatic incident following comments referred to the electoral results.