Positive cruise season for Uruguay and further growth prospects for 2013/14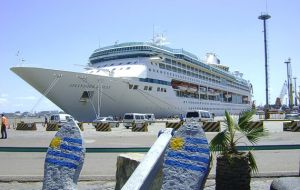 Last Wednesday April 17 'Splendour of the Seas' and its 1.940 passengers marked the end of the 2012/13 cruise season for Uruguay, which took off on 23 October and totalled 222 calls between the port of Montevideo and Punta del Este sea resort.
It is estimated that the 222 calls represented 400.000 people between passengers and crews and although not all of them landed, it is a significant number with a positive input for the Uruguayan economy.
Besides the direct purchases of provisions and services for the vessels and cruise companies, "there is an indirect return to the country's economy referred to what visitors spend that can be estimated in 20 million dollars", said Antonio Carambula, Deputy Minister of Tourism and Sports.
Besides, "the cruise industry has a multiplying effect particularly from the extra-zone visitors. In many cases the cruise visitors become ambassadors of Uruguay in the world", said Carambula who added stats show that "some of them return as traditional tourists to spend more time, or looking for investment opportunities or a second residence".
Carambula said that the 2012/13 season marked a 9% increase in cruise visitors and "the tendency remains strong for the coming season".
Next year the 'Gran Mistral' from Costa Cruceros has 15 trips planned operating from Montevideo, and hopefully in 2014 the port of Colonia along the Uruguayan River Plate coast and only fifty kilometres from Buenos Aires, "also is added to the itinerary of the cruise industry along the South Atlantic.
"This year because of climate reasons, we weren't able to complete the project" said Deputy Minister Carambula.
The top official revealed that Uruguay will be participating at the World Travel Market Latin America to he held in Sao Paulo, Brazil next week, April 23/29. Uruguay will have a 40 sq metres stand at the International Area of the Transamerica Expo Centre, shared between the government and the private sector.
The Uruguayan delegation will be headed by Tourism National Office director, Benjamin Liberoff, plus the mayors from Maldonado and Montevideo and representatives from twelve private sector tourism agencies.
World Travel Market Latin America is being organized in the continent for the first time and it is planned to become an annual event. Sao Paulo will be hosting simultaneously its 39th edition of the Brazil Commercial Tourism meeting.