'Official poverty' in Argentina 2.5 million people; private estimate: 11 million
Thursday, April 25th 2013 - 06:07 UTC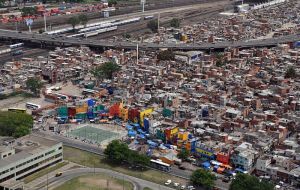 The rate of poverty in Argentina dropped to 5.4% last year and indigence was down to 1.5%, according to data released by the controversial government's stats office, Indec. A person ceases to be indigent in Argentina if he can feed on 6 Pesos daily, which based on the official rate is just over one dollar but in the parallel market 75 US cents.
Indec affirms that (2012) poverty dropped 1.1 percentage points from 6.5% in 2011 and indigence 0.2 percentage points from 1.7% in the same year.
Last December the Basic Food Basket which includes a minimum ration of staples for a person to subsist was up 13.3% in the last twelve months, which means a couple with two children (6 to 8-year olds) needed 720 Pesos not to fall to indigence, argues Indec.
However that same family group needed 1.614 Pesos to purchase the Total Basic Basket, which besides food includes transport and some clothing.
However the Social Debt Observatory from the Argentine Catholic University (UCA) disagrees with the methodology and the number of poor people in the country which it estimates at 11 million (out of a population of 40 million), while for Indec the number is 2.2 million. In other words the official estimate from Indec is five times less than that from the independent UCA.
Last March UCA presented its report showing a similar stats tendency both for government and private sector referred to the social situation in Argentina in the last eight months.
For the UCA Observatory, 2012 ended with a poverty rate of 26.9%, even when Indec insisted with 5.4%. Similarly with indigence, the difference is 5.5% and 0.8%.
The difference emerges from the elements used to calculate the social variable, which are basically income and prices. In this last element Indec refers to the official inflation rate which is less than half the so called Congressional index, an average of private agencies exposed to fines if they don't use the government's methodology.