Argentina's 'autarkic project' worsens bilateral relations and multiplies problems
Friday, May 17th 2013 - 06:51 UTC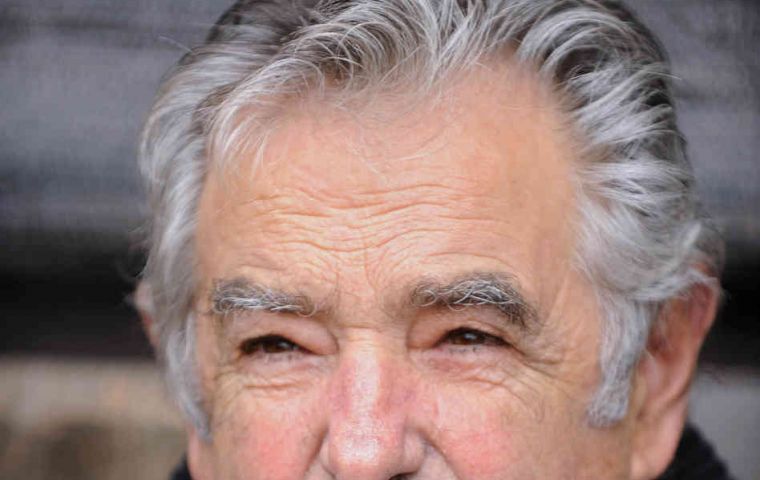 In an interview with the Spanish government news agency EFE, Uruguayan President José "Pepe" Mujica said Argentina's economic "autarkic project" "worsens" bilateral ties and "multiplies" trade troubles. Still, he ruled out pressures on Buenos Aires; "they won't work," he insisted.
From a trade perspective, Argentina is Uruguay's "top" regional and global partner said Mujica. "We're on one side of the River (Plate) that at the same time unites and divides us and we have a ports' rivalry going back to colonial times", he added.
While analyzing Argentine customs' restrictions, Mujica said Argentines are too involved in a very autarkic project, very protectionist and this multiplies difficulties "but it is the consequence of a model that they have chosen for their economic relations".
The Uruguayan president also brushed aside an incident from last April when in an open microphone he was overheard saying non too polite words about President Cristina Fernandez and her late husband Nestor Kirchner. Mujica described Cristina Fernandez as the "stubborn old hag" and Nestor Kirchner as the "one-eyed man".
The Argentine Foreign ministry condemned the expressions as 'unacceptable' and 'denigrating', and Mujica a week later apologized. Cristina Fernandez a few days later twitted admitting she was a 'bit stubborn' and yes was 'getting old'.
"We are in a good, friendly relation" but "we still have the same problems we had before (the incident), some of them on its way to be resolved, others not yet," he said.
Despite tensions, Mujica praised Argentina-Uruguay historic relation saying that "the only place in the world" where Uruguayans never feel discriminated is Argentina"; same thing happens to Argentines in Uruguay, he added, pointing out that Argentines have developed "significant real estate investment projects in Uruguay, especially in Punta del Este sea resort".
In that way, the head of state rejected Uruguayan opposition claims that accuse him of being "agreeable" and 'condescending' with Cristina Fernandez demanding a "tougher" position against Buenos Aires.
"Every time we turned tough with Argentina, we lost," the president stated as he recalled the Botnia paper mill dispute that prompted a 7-year conflict with Argentina saying that the Finnish-owned plant was polluting a river bordering both countries.
"There are people that demand us to be tougher but this is not a macho-like problem, what is better for society is what must be considered," Mujica assured. "Bilateral tensions will be overcome, they come and go".