Indigenous community asks Argentine president to protect their ancestral land
Thursday, May 23rd 2013 - 19:26 UTC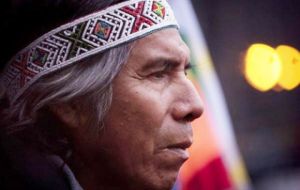 Northern Argentina Qom indigenous community leaders this week held a formal meeting with Supreme Court justices and Formosa government officials. After the hearing, the community leader Félix Díaz requested President Cristina Fernández support in a controversy over land property they have with the provincial authorities in Formosa.
The meeting was scheduled at the downtown Buenos Aires Central Courthouse between the community leaders and officials of Formosa Governor Gildo Insfrán, who did not attend the talks. Supreme Court Chief Justice Ricardo Lorenzetti and Justices Elena Highton de Nolasco and Juan Carlos Maqueda also attended.
On March 7, Lorenzetti called for the gathering to analyze and prevent further violence toward the community. Insfrán's intention is to use 600 hectares of the La Primavera community land to build the National University of Formosa.
"We demand a territorial survey in order to recover our ancestral land" Díaz said to the press. He also asked President Cristina Fernández to back their demands.
The community leader supported Chief Justice Lorenzetti's initiative. "The Court wants to stop the violence and also wants these matters to be solved democratically," he added.
According to Díaz, the justices set a deadline: Formosa's authorities are supposed to carry out a technical and legal survey within a week in the lands occupied by the indigenous communities.
Argentine Law 26,610, enacted in November 2006, suspends the execution of sentences involving land traditionally occupied by the indigenous communities. That law also covers the inspection that the communities are demanding. "The survey is the only means we have to recover our ancestral lands..," he said.
Amnesty International also warned about the intimidation the indigenous leaders have been suffering in the recent months.
"The repeated violent situations these community members have been facing begs for the intervention of Formosa authorities," said Mariela Belski, the director of Amnesty International's Argentine branch.