All ready for the massive 'decade won' celebration of ten years of Kirchnerite rule
Saturday, May 25th 2013 - 05:45 UTC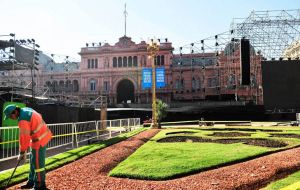 All is ready for the massive 'decade won' celebration that President Cristina Fernández plans to hold on Saturday May 25 to commemorate the ten years since her late husband Nestor Kirchner first took office, but which must also be interpreted as a rally in support of her administration battered by inflation, a slowing economy, political battles and growing claims of rampant corruption.
That day, May 25 marks the 203rd anniversary of the 'May Revolution' which opened the path for Argentina as a country and its independence. It was also a cold day back in 2003 when the virtually unknown governor from deep Patagonia won an emergency presidential election with 22% of ballots cast in a shattered country with melted economy and almost half the population below the poverty line.
"On May 25 we have a double obligation: Celebrate the May Revolution and support with all our strength our Head of State in this decade won," said Presidential Chief-of-Staff Oscar Parrilli.
"Our President is being slandered, offended and insulted. They even messed with her dogs," said the Kirchnerite official following a series of remarks regarding the pet photos tweeted days ago by Cristina Fernández. But also allegations in the mainstream media that businessmen laundered tens of millions of Euros skimmed from public work contracts.
"We will have to confirm our love, trust and support for the socio-economic model that began in 2003, in order for it to thrive," said Parrilli.
However, the head of state is "stronger than ever," Parrilli underlined during a rally he joined in along with Federal Planning Minister Julio de Vido and Neuquén province Governor Jorge Sapag.
Meanwhile, Kirchnerite provincial Deputy Fernando "Chino" Navarro predicted half a million people would join the government-backed celebration.
"We are going to bring our love together with social organizations," said Navarro, a leader of the Kirchnerite group Movimiento Evita. Navarro promised to bring 70,000 activists himself.
The celebration is being organized by the Bicentennial Unit, the office responsible for the artistic events surrounding the 200th anniversary of the birth of Argentine nationhood in 2010. More than six million people took part in those celebrations, surprising members of the opposition.
The government team plans to replicate this "party climate" again by putting on a series of cultural and musical numbers, including Cuban folk singer Silvio Rodríguez, Argentine rock star Fito Paez and the National Orchestra from Venezuela.
Cristina Fernandez will be the only speaker on Saturday afternoon at the huge stage set up in front of Government House (Casa Rosada) at the iconic Plaza de Mayo in downtown Buenos Aires.
Those invited and not invited, attending and not attending the special guests section at the stage, (plus the pecking order) will also be a clear picture of how Cristina Fernandez administration stands ahead of the coming mid term legislative elections next October when the control of Congress is at stake.