Mujica calls on Spain for a more active role in the EU/Mercosur trade discussions
Tuesday, June 4th 2013 - 07:00 UTC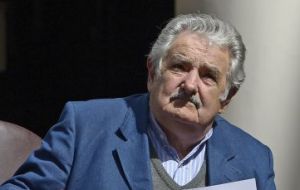 Uruguayan president Jose Mujica called on Spain for a more decisive role in the trade and cooperation agreement discussions between Mercosur and the European Union which have been going on for over a decade.
"It's over ten years we have been discussing an agreement of Mercosur with the EU", said Mujica who then called on Spain "to make Europe remember that the relevant decisions which are taking in these years, will have historic repercussions and must be addressed now".
Mujica is currently in Spain after visiting China and the Vatican where he met with Pope Francis. However he cancelled the last leg of the tour, Italy on medical recommendations, because of his age, 78, and the fact he is feeling the jet lag and time differences between the three continents.
Mujica admitted that the institutional framework of Mercosur is weak, but if it did not exist "what would have become of us small and on our own". He added that Mercosur goes beyond trade, customs and investment and has the idea of a 'federal' entity, "faithful to our fatherland and history".
"We need to build this great Latinamerican fatherland and get closer to Europe", because through great multilateral understandings and international cooperation "we can continue to improve the living conditions of our peoples".
The European Union is a great economic space and will overcome the current crisis: "there's no going back, but you will manage to overcome it and prevail" said Mujica who again expressed disappointment with the fact that in over a decade the EU and Mercosur have been unable to wrap up a trade agreement.
"Spain is the natural link for this great agreement; Spain must play an active role and in Latinamerica we need the EU to counterbalance the growing influence of China", insisted the Uruguayan president.
"We share everything with Europe, with Spain with Galicia from where so many families came to Uruguay, but our main trade partner is China. We need a strong relation with the EU, we want to avoid the big panda bear hugging us…China is so big, so powerful and growing".
Finally Mujica said that a trade and cooperation agreement with Mercosur and Latinamerica would be of great significance for Europe "and would help you out of the crisis".