Cristina Fernandez admits defeat to the Supreme Court but promises to fight on
Thursday, June 20th 2013 - 05:48 UTC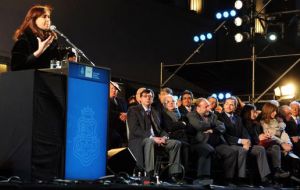 Argentine President Cristina Fernández targeted the Supreme Court on Thursday after its recent ruling against the Council of Magistrates reform and warned that "Argentines will be able to democratically vote for all political branches sooner rather than later."
While attending a rally in Córdoba to celebrate the 400th anniversary of the University of Córdoba, the President said that "the force of History is unstoppable."
"We endured some pain yesterday, but we will heal," she said.
"Those who think that through a resolution, they can stop growth and the advancement of democracy, they should know that they can only do that for some time, because never has a society been banned from choosing its political branches as the Constitution says they should," she said.
She also said that the Court "doesn't want the people to vote."
"When somebody was telling me yesterday that they were sad, I told them to leave sadness for a movie or a soap opera. Us militants need to be happy and ready for the next battle, because the only battle you lose is the one you don't fight and we will keep fighting," she concluded.
Other members from the Argentine cabinet also criticized the ruling from the Supreme Court. The challenge is to democratize the only branch of the state which people have no right to vote for, Justice Minister Julio Alak said regarding the judicial setback against the government-sponsored justice reform. "We expected a more democratic ruling," he insisted.
"We are a Representative Republic as the National Constitutional says and it can´t be that people can vote for the representatives of the Executive and Legislative branches and when it comes to choosing the lawyers and academics who will then choose judges they can not," Alak considered and affirmed the Cristina Fernández administration expected the ruling to be "more democratic."
"Why are they afraid of people voting, what is the problem?," the Minister asked explaining the members of the Council of Magistrates "are not elected by popular vote but through qualified voting" proceedings.
"People are never wrong and voting is the nature of democracy. So what is the problem? Saying that the judiciary system will be politicized is nonsense," Alak told reporters responding to the criticism by the opposition that accused the government of proselytism. The reform of the Council of Magistrates, now declared of unconstitutional nature by the Supreme Court, sought the election of the body's members under party ballots.
"The struggle for democracy has never been easy," the Minister of Justice finally said.
Likewise cabinet chief Juan Manuel Abal Medina argued thzt the Supreme Court ruling on the popular election of magistrates is an offence to the Argentine people", Cabinet Chief Juan Manuel Abal Medina in reaction to the Supreme Court ruling against the Council of Magistrates reform.
"The arguments used against the democratization of Justice are weak, not only in a technical aspect, but they are totally dangerous from a political point of view because they hurt the main principles and values of democracy", he added.
Abal Medina concluded saying that "the corporative elites are forcing themselves to maintain in power, even at the behest of hurting the democratic institutions".
The highest court declared the unconstitutionality of the Council of Magistrates reform, a major setback for Cristina Fernández aspirations for a radical change in the court configuration process.