Russia to supply China 270bn dollars in oil on 25 year contract
Friday, June 21st 2013 - 16:41 UTC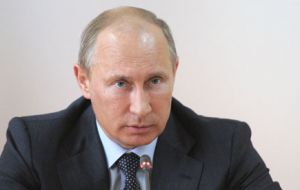 Russian state oil company Rosneft has agreed to double its oil supplies to China, in a deal worth 270bn dollars over 25 years. Under the terms of the deal, Rosneft will supply 300.000 barrels of oil a day to China starting in 2015.
It is a further sign that Russia - the world's biggest oil producer - is focusing on Asia, not Europe, as its main business partner of the future.
Rosneft will receive 70bn upfront, Russian President Vladimir Putin said and Rosneft's chairman Igor Sechin told reporters in St Petersburg that the supply deal would be one of the biggest in the country's history.
The upfront payments will be particularly welcome for Rosneft, whose debt level has surged since it acquired Anglo-Russian producer TNK-BP in a 55bn cash-and-stock deal in October 2012.
According to ratings agency Standard and Poor's, Rosneft faces large debt maturities of 6.6bn in 2013, 15.9bn in 2014, and 16.2bn in 2016. The Chinese payments will lighten this load considerably.
Russia currently exports about 4.4 million barrels of oil per day, with Asian markets accounting for 17% of that.