Teamsters bring Argentina to a stop and challenge fiscal policy and income tax
Monday, July 8th 2013 - 07:06 UTC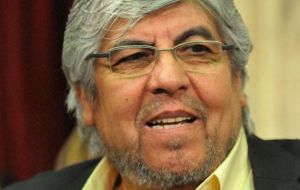 Argentina's teamsters union headed by the powerful leader Hugo Moyano, a former ally of the government and currently one of her most aggressive adversaries, has declared a national strike on Monday which in practical terms means the country is in full campaign ahead of the mid term October election when President Cristina Fernandez will try by all means to retain control over Congress.
The measure started to be enforced Sunday afternoon as garbage collectors and long distance trucking came to a halt, 'as the afternoon shifts will not be working' said Pablo Moyano, who is assistant secretary of the union and son of Hugo Moyano.
"The strike is not against President Cristina but against her policies, we are demanding the elimination of income tax which with inflation and rigid percentage levels is most unfair for workers", said Pablo Moyano.
"The workers have been robbed of up to 4000 pesos because of this damned tax on work and because of non-payment of Universal Child Allowances", complained Pablo Moyano, complained in an interview.
"From an 18.000 Peso salary, 4.500 Pesos is deducted," he said and went on to add "if this is not too much money for you, it is for us."
He also clarified his father's words and said that the strike is not directly against President Cristina de Kirchner: "It is not personal: it is against the politics she is pursuing".
A day before the teamsters union had attacked the president and her income policy asking 'how much is needed to feed a family' in direct reference to the controversial inflation percentages managed by the domestically and internationally questioned official stats office Indec, and which are less than half those from private consultant estimates.
"The President says she will not accept extortions. We tell her that truck drivers will not accept having our salaries stolen anymore" said Moyano.
The strike will include 18 branches of the teamsters (among which are fuel, refuse, newspapers and soft drinks) and it is expected to have a strong impact, since it comes between the weekend and Tuesday's national holiday.
Last June Moyano called a fuel distribution stoppage to show his muscle and a few weeks later had a massive rally at the iconic Plaza de Mayo, which signalled the first national strike in over a decade in Argentina.
On Monday a huge rally at Plaza de Mayo is also planned which has the support from other organized labour groups contrary to the administration of President Cristina Fernandez.
In the event that the government blocks access to Plaza de Mayo, the teamsters' demonstration will go to the Employment Ministry, on Alem 650, according to stockpersons from the union.
"At some point they have to listen to political demands. Millions of workers are being punished by the income tax. We hope the president listens," Pablo Moyano added.
After a decade of sustained economic growth public opinion polls are indicating that Cristina Fernandez Victory Front is having serious trouble with the organizations and candidates in the province of Buenos Aires which 35% of the national vote is decisive for a good showing in Congress.