Main organized labour leader calls on workers not to vote for CFK next October
Tuesday, July 9th 2013 - 06:39 UTC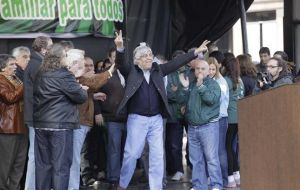 The powerful organized labour leader and former ally of the government Hugo Moyano, called on workers to vote against the administration of President Cristina Fernandez (CFK) and her candidates in the coming mid term elections of next October, during a political rally in the iconic Plaza de Mayo, downtown Buenos Aires
"On 27 October we are going to vote for the political solution that will disappear all injustices", said Moyano addressing thousands of teamsters who had declared a one day stoppage and were gathered at Plaza de Mayo.
"The same way at one moment I told you we had to vote for the government, now I'm telling you they will not cheat on us again with their non honoured promises; all those benefits, all those handouts the government wants to show, are but a pack of lies", insisted Moyano that has become the main organized labour adversary of the government.
The one day stoppage which took off midnight Sunday caused chaos in Buenos Aires traffic access to which had to be added cancellations and delays in long distance transport and the running out of fuel in many gas stations all over Argentina. Likewise tons of garbage accumulated since sanitary workers also adhered and so did kiosks and news stands because distribution of newspapers and magazines was interrupted.
Moyano accused President Cristina Fernandez of having 'missed the course' and warned "Ms. President, workers should not be afraid of, they must be respected".
"Today, million of workers are not being respected and that is what truck drivers' can no longer stand", Moyano said at the beginning of his message.
He added: "we tell the government and society that we are outraged because of this evil (income) tax that workers must pay" and "does this lady not know she is creating conditions similar to the neo-liberal policies that destroyed jobs".
Moyano asked and added the government is "discouraging" workers with social plans he called "resting plans" which thousands of "unemployed" must accept.
The organized labour leader was one of the most important allies of former president Nestor Kichner (2003/07), but with Cristina Fernandez things were different. In the mid term elections of 2011 Moyano was left out of the slates and last year organized labour split between those following Moyano, and the Kirchnerites.