With Guyana and Suriname all South American countries are Mercosur associates
Friday, July 12th 2013 - 07:50 UTC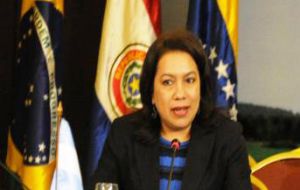 Suriname and Guyana signed on Thursday the protocols to become associate members of Mercosur which is currently holding its mid year summit in Montevideo. This means all South American countries are now part of Mercosur.
"The framework adhesion accord is an important step in the joint path to integration which has become imperative and is no longer an option for us", said Guyana Foreign minister Carolyn Rodrigues-Birkett, adding that "we want to act as a bridge between South America and the Caribbean.
Suriname ambassador in Brasilia Marlon Hoesein described the event as 'historical' but also cautioned that "we have a long path ahead of us. However we are ready for that joint passage to build a more prosperous South America for the benefit of our peoples".
"All countries of South America are Mercosur associates now", underlined the foreign ministers from Argentina, Brazil, Uruguay and Venezuela in a joint release in which they underscored the three pillars for the block to advance: politics, cooperation, and trade and investments.
"Political dialogue will include among other things the strengthening of democracy and the promotion of human rights, international peace and security and social development", said Uruguayan foreign minister on reading the release.
Cooperation will enable to develop "initiatives in areas such as culture and education, agriculture, science and technology" with the purpose of "promoting the expansion and diversification of trade" among associate members through economic complementation accords that will emphasize deeper and closer relations between Mercosur and Guyana and Suriname.
The incorporation of the two countries on the Caribbean, as associate members took place in the framework of the XLV meeting of the Common Market Council which started early Thursday and will continue Friday with the presidential summit of member countries when the Mercosur rotating chair currently with Uruguay will be handed to Venezuela.
Friday's declaration is expected to address the Paraguay controversy and three other main points: the incident suffered by Bolivian president Evo Morales when four European countries refused fly-over permission for his plane; the revelations from NSA leaker Edward Snowden referred to US spying in most Latam countries, and the right to asylum.