Former Brazilian official blasts his country policy towards Paraguay as 'arbitrary, illegal and incompetent"
Monday, July 15th 2013 - 21:15 UTC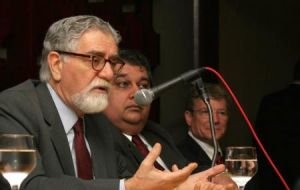 Brazil's former Foreign minister Celso Lafer said that Paraguay was 'arbitrarily' excluded from Mercosur with a sanction that is not in conformity with the group's charter and warned Brazil is losing international credibility in supporting Paraguay's suspension because it is distancing itself from International law.
The International Law expert, who was Foreign minister in 1992 and later in 2001 and 2002, displayed these arguments in his book 'Foreign Policy'.
"The sanction applied on Paraguay suspending it from Mercosur (29 June 2012) as a consequence of the removal of Fernando Lugo is "arbitrary and incompatible with the norms that rule Mercosur. That is why it exposes the confidence that must prevail and permeate the mutual collaboration rules an integration process", said Lafer.
The consequences of this 'illegality' will have significant consequences for Brazilian foreign policy at several levels , firstly "because it compromises the soft power and international credibility of Brazil, that has always made a point to exercise foreign conduct according to the strict compliance with International law, and traditionally has criticized in diplomatic debate, those countries that do not take into account the importance of international rules for the coexistence among states in the global dialogue".
Secondly, taking into account the relation of Brazil with Paraguay the decision to suspend "will have serious consequences" because since the XIX century the relations of Brazil with the landlocked country have been 'dense and profound', and currently they are far more important than those links with "Argentina and/or Uruguay".
"Just to mention the significance for Brazil of the bi-national Itaipu hydroelectric dam and the hundreds of thousands of Brazilians that live in Paraguay, and that is why any diplomatic action of Brazil related to the democratic governance in Paraguay should be as in the past, from the existence of Mercosur, a Brazilian initiative".
But "that was not what happened in this case in which Brazil allowed to be pulled by Argentina and by Venezuela, whose links with Paraguay have a circumscription more related to another vision or other interests".
Summing up, the decision to incorporate Venezuela to Mercosur in the terms that it was adopted is an illegality aggravated by the illegality of the previous suspension of Paraguay from Mercosur which impeded its participation in a decision that is going to alter the structure of Mercosur and its dynamics".
Lafer insists that Brazilian foreign policy adopted "illegal, inexpert and imprudent diplomatic actions" by endorsing the suspension of Paraguay and the incorporation of Venezuela to Mercosur during the summit held in Mendoza, Argentina, 29 June 2012, seven days after the removal by impeachment of president Lugo for ill-performance of his presidential duties.
Likewise the suspension of Paraguay allowed the resurgence of the Paraguayan society resentment towards Brazil because of the Triple Alliance war (Argentina, Brazil and Uruguay against Paraguay) in the years 1865/1870.
"Thus rebuilding the relations of Brazil with Paraguay is going to demand an extraordinary effort", concludes with disappointment the former Foreign minister Lafer