Paraguay will hold Mercosur presidency in the first half of 2014, says Uruguay
Tuesday, July 16th 2013 - 05:45 UTC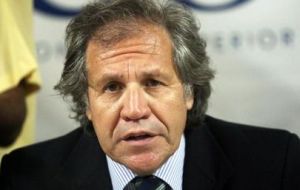 Paraguay will hold the rotating chair of Mercosur after Venezuela, at the end of this year, which will mark the full active comeback of the country to the regional block, announced Uruguay's Foreign minister Luis Almagro on Monday in Montevideo.
"With Paraguay's active presence as of next August, and holding the Mercosur presidency at the end of the year, the situation will be channelled institutionally and culminate in the adequate full return of Paraguay to the regional block", said Almagro.
Venezuela currently holds the pro tempore chair following the summit held in Montevideo last 12 July, while Paraguay remains suspended because of the removal in June 2012 of Fernando Lugo, who was impeached by the Senate, but Argentina, Brazil and Uruguay described the incident as a 'congressional coup' or 'institutional rupture'.
At the Montevideo summit the three full member presidents, Cristina Fernandez, Argentina; Dilma Rousseff, Brazil and Jose Mujica, Uruguay decided to lift the suspension of Paraguay as of next 15 August, when president-elect Horacio Cartes takes office and having "fulfilled with the democratic requests demanded by the Mercosur charter".
Speaking to a local radio in Montevideo, Almagro said that once the suspension is lifted, "Paraguay will be in condition to exercise its full rights as full member and can hold the pro tempore chair of Mercosur" but for the following half year (2014) because "there are no pro tempore presidents of a month and a half or of six months and a half".
However handing the temporary presidency of Mercosur to Venezuela which was incorporated as full member following on Paraguay's suspension, the country which was blocking for years the access as full member of the country ruled by Hugo Chavez, was rejected by the Paraguayan government.
Almagro argued that "it is not on writing that Paraguay lost the opportunity to hold the presidency of Mercosur, simply it will be given the following opportunity once it is in conditions to do so".
Almagro added the access of Venezuela to the pro tempore chair could not be modified because the alphabetical order used for rotation in the presidency each six months 'would have to be altered, and this is not done'.
The outgoing Paraguayan administration of President Federido Franco declared the current Venezuelan president Nicolas Maduro 'persona non grata' because of his interferences and statements in June 2012 referred to the removal of then president Fernando Lugo.
However despite the diplomatic and political rift both sides admit that bilateral trade has continued and even increased.