All four EU countries involved in the Morales plane incident have officially apologized
Saturday, July 20th 2013 - 05:22 UTC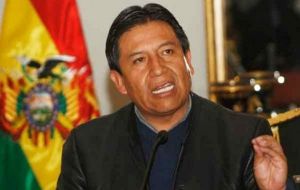 Italy and Portugal have officially apologized for involvement in illegally re-routing the plane carrying Bolivian President Evo Morales earlier this month during a flight home from Moscow. On 3 July a number Western European countries closed their airspace to the presidential aircraft on a false suspicion that leaker of US electronic spying Edward Snowden was onboard, forcing the plane to land in Vienna.
"It was not only Spain, which sent us a letter with excuses, but Italy and Portugal as well" stated Foreign minister David Choquehuanca stated, adding that the ministry would consider the apology letters and will later issue a reply.
The aircraft carrying Morales had been in the air for over three hours after departing from Moscow on July 3, when France, Spain, Portugal and some other European governments declared the closure of their airspace to it.
The plane was later allowed to fly back to Bolivia from Austria after local authorities concluded that Snowden was not aboard the presidential aircraft. This is while France and Spain have already filed expressions of apology to Bolivia for shutting down their airspace to President Morales.
The development comes following an ensuing diplomatic scandal that sparked fierce reaction by leaders of Bolivia and numerous Latin American countries, demanding explanations.
Leaders and officials of Argentina, Ecuador, Suriname, Venezuela, Brazil and Uruguay joined President Morales in the Bolivian city of Cochabamba on July 4 to condemn the illegal European move against Morales, demanding a formal apology from France, Italy, Portugal and Spain.
Later in Montevideo during the Mercosur summit the Latin American leaders further expressed outrage over the incident, dismissing it as a violation of national sovereignty and a slap in the face to a region that has suffered through humiliations imposed by Europe and numerous US-backed military coups.
In a joint statement read after the gathering, the Latin American leaders also said they would back Bolivia's official complaint with the UN Human Rights Commission.