Argentina/Brazil trade disputes reached a 'furious level' during Mercosur last summit in Montevideo
Wednesday, July 24th 2013 - 07:29 UTC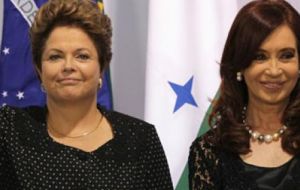 International issues helped Mercosur to close ranks and give a false image of unity during the last summit held in Uruguay, according to diplomatic sources in Montevideo that are surfacing details of a bitter exchange behind doors between Argentina's Cristina Fernandez and Brazil's Dilma Rousseff.
In effect the dispute was again referred to intra-Mercosur trade with Brazil demanding a more flexible attitude from Argentina and the administrative measures implemented by Cristina Fernandez administration which delay and discourage trade.
President Rousseff argued as it has done in other meetings that Argentina should give Mercosur partners a better deal and not enforce the regime that demands sworn statements on planned imports and which according to business people the paperwork can take from a few days to months, contrary to normal trade relations.
President Cristina Fernandez, with no reserves and despite the fact that all Mercosur and associate member presidents were in the meeting together with their ministerial support, said point blank that Argentina will not change its trade policies geared to promote domestic industry and consumption, and to contain the outflow of dollars from the country.
Despite the Brazilian president displaying 'infinite patience', Uruguayan president Jose Mujica and at times Bolivian president Evo Morales had to intervene on several occasions to try and contain the 'heated at times furious' ladies' exchange, said diplomatic sources in Montevideo.
Brazil has seen its sales to Argentina drop significantly since the latest protectionist measures implemented, apparently to the benefit of cheaper Asian produce, and Brazilian industry lobbies are putting pressure on President Rousseff to find a solution to the problem.
This is not the first time these kind of backdoor clashes happen. In another summit in 2011, Brazil proposed a special regime to liberalize Mercosur intra-trade with free movement of produce and people, but Argentina was adamant to the fury of the administration of president Rousseff.
However at the time it was agreed to name a High Level Group to try and channel trade differences and advance in making an effective although precarious free market. Obviously the high level group was stalled from the start and was followed by tit-for-tat customs measures from both sides.
In Montevideo the two ladies finally lowered the tone of the discussion and a consensus whitewashed release that reiterates the intention of continuing to advance in "facilitating intra-zone trade, reduction of asymmetries, access to financing and integration of productive structures".
Nevertheless in the open session Brazilian president Rousseff addressing her peers insisted in "the promotion of an external insertion agenda which contemplates faster chronograms for trade negotiations with other countries of the region, the European Union and the promotion of agreements with our African brothers, looking to implement a special trade policy".
Regarding the next round of strategic association and free trade negotiations with the EU, Uruguay said it had 'concluded' the list goods and services to propose in the talks; Brazil admitted its proposal list was 'almost ready' and Argentina pledged to have it ready 'with sufficient time' so that Mercosur can agree and present an only list.
But whatever the differences and the intensity of the dispute, at the end of the day there was ample space to criticize the 'neo-colonialist' attitude of European countries that prevented Bolivian president Morales from over-flying several countries; to blast the US over the revelations of leaker Edward Snowden about spying Brazil, Argentina and other Latam countries and finally the right of Latam countries to offer political asylum with no conditions or threats from Washington. Aye. Aye.