Spanish trawler crew member medic-evacuated by Uruguayan frigate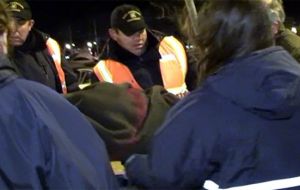 A Uruguayan frigate was involved in a high seas medic evacuation following a distress call from Spanish trawler 'Playa de Sartaxens' because one of its young crew members suffered a sudden faint which lasted several minutes.
Frigate 'ROU 1 Uruguay' was dispatched on Friday to meet the 1.400 ton Spanish flagged trawler that was operating 200 miles south of Punta del Este, while from Montevideo local medics indicated by radio the procedure with the patient.
The emergency call fist came directly to the Uruguayan Navy Search and Rescue Department from Spain's fishing vessels 24-hour tracking system. Finally it was decided that the 21 year old Peruvian crew member had to be hospitalized and thus the high seas rescue operation.
The whole operation that took off on Friday was over by mid Saturday when the young sailor was taken ashore in Montevideo to a local hospital where he remains under observation, apparently recovering.
"Playa de Satraxens had left Montevideo earlier in the week for high seas catching according to the report from the Uruguayan Coast Guard.