Brazil and Uruguay want a "two speeds" Mercosur agreement with the EU
Monday, August 12th 2013 - 18:10 UTC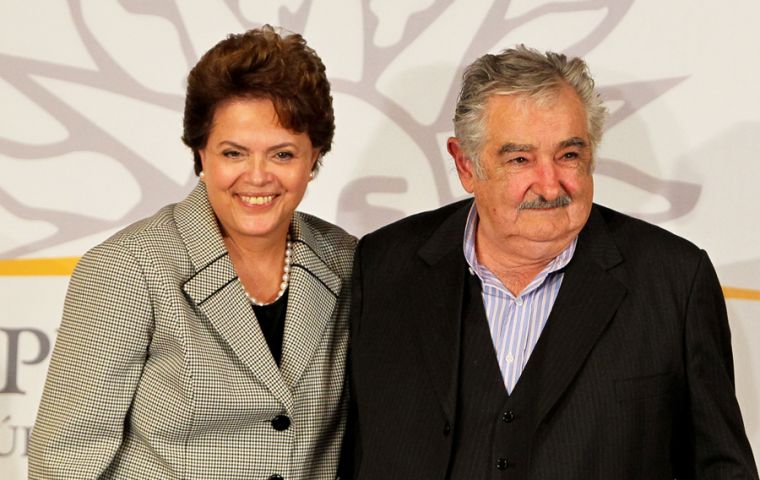 Brazil and Uruguay want to speed a trade agreement with the European Union but without abandoning Mercosur, and making it clear that they are willing to advance at "a different speed" than the rest of the group's members, revealed a reliable source from the government of President Jose Mujica in Montevideo.
"For some time Mujica and Brazilian president Dilma Rousseff have been discussing about 'speeding' an agreement that is becoming ever more important given the United States emphasis on concentrating its efforts in the Pacific basin, particularly Asian countries", said the source.
This contrasts with Argentina's Cristina Fernandez that is involved in a trade policy clearly protectionist and is in no rush to reach an agreement with the Europeans. But Brazil and Uruguay are basing their strategy in the 'two speeds' policy to as to agree with the EU and not break links with the rest of Mercosur partners.
The two presidents also looked closely to what happened with the Andean Community which at the beginning was very enthusiastic about reaching a trade and cooperation accord with the EU, but finally Ecuador and Bolivia feeling their economies were too weak, dropped out and only Peru and Colombia reached the goal.
"We must promote an agenda of external insertion that contemplates faster chronograms for trade negotiations with other American countries and with the European Union, with the promotion of accords with our African brothers and searching for a special trade policy", pointed out Rousseff in her main speech at the Mercosur summit last 12 July in Montevideo.
At the time it was also reported that Uruguay announced to its Mercosur partners that the EU market-access proposal was 'ready' and Brazil 'almost ready'. But Argentina only said it was committed to prepare its proposal on time so that all members could present the EU a joint formula.
Brazil's Foreign minister Antonio Patriota repeated the argument in the interview with the Financial Times: "there are objective conditions that have created very strong incentives to advance in the Mercosur-EU front. But there is also anticipation so that each Mercosur member is capable of negotiating at different speeds".
The Brazilian business communities as well as powerful farmers' organizations have called on the government of President Rousseff, the urgent need to search for new trade frontiers.
"It's great to have good relations with neighbours but the rest of the world is involved in making trade agreements and Brazil is risking been left out", said former Central bank president Arminio Fraga and advisor to the powerful Industrial Federation of Sao Paulo.
"Until when will we allow ideology to prevail over economics, markets, competitiveness grounding the great vessel of Brazilian trade in the port of little regional pretensions" recently wrote Katia Abreu in a column published in Folha de Sao Paulo openly criticizing the administration of Dilma Rousseff for its Mercosur policy and the results of the recent Montevideo summit.
Katia Abreu is not only a Senator but equally important the most relevant and influential farmers' leader in Brazil, an industry that represents the most dynamic sector of the country's economy and together with mineral account for 65% of Brazil's exports.
In a similar attitude Cesario Ramalho da Silva president of the Brazilian Rural Society said that "Mercosur has become characterized for bad leadership and worse presidents" since there are no incentives for the regional organization and it has become "a political field for an ideological battle".
His public statement was made while attending a meeting in Buenos Aires of Mercosur Rural Federations and Associations during the recent Palermo cattle show.
However Patriota underlined what Mercosur has represented for Brazil, "both in trade volume and quality, since it has become the ideal space for Brazilian manufactured goods".
He added that Mercosur and the UE agreed to exchange market access proposals by the end of 2013 and the process could resume as of next Thursday, 15 August when Paraguayan president-elect Horacio Cartes is inaugurated and the country, currently suspended returns to Mercosur.