UK warns Spain with legal action over the tight controls at the Gibraltar border
Tuesday, August 13th 2013 - 02:27 UTC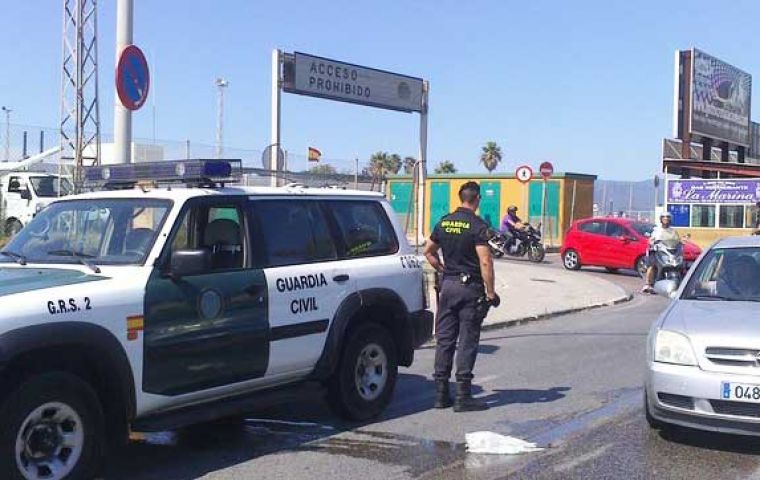 Britain warned Spain it might take legal action to try to force Madrid to abandon tighter controls at the border with the contested British overseas territory of Gibraltar in what it called an "unprecedented" step against a European ally.
The warning coincided with the departure of a British warship for Gibraltar, played down by the British and Spanish governments as part of a long planned, routine exercise but which underscored heightened tensions over the territory.
A spokesman for Prime Minister David Cameron said the Spanish border checks, imposed after Gibraltar created an artificial reef which Spain said blocked its fishing vessels, were "disproportionate" and "politically motivated".
Tensions over the rocky outpost at the mouth of the Mediterranean to which Spain lays claim have turned into one of the worst disputes in years between the two European Union members.
"The prime minister is disappointed by the failure of the Spanish to remove the additional border checks this weekend and we are now considering what legal action is open to us," Cameron's spokesman said, arguing they breached EU law.
"This would be an unprecedented step," he added, saying that the British ambassador in Spain would relay Britain's message to Spanish officials later in the day.
Spain said it would not back down over the border controls which it said were a legal and proportionate step to prevent money laundering and smuggling of tobacco and other products from Gibraltar.
Spain's tougher checks at the 1.2 km border have caused long delays for thousands of tourists and local people. Madrid also aired the idea of imposing a border crossing fee and of banning planes using its airspace to reach Gibraltar.
Gibraltarians were granted full British citizenship in 1981 and a referendum in 2002 backed Britain's rule, with 98% of voters rejecting the idea of shared sovereignty with Spain.
Opposition politicians in Spain have accused Rajoy of using the situation to distract Spaniards from the country's severe recession and a corruption scandal damaging his political party and top officials.
In London, Boris Johnson, the city's outspoken mayor, waded into the debate, telling Madrid to take its "hands off our Rock", saying he hoped the planned arrival of British warships in Gibraltar was not a coincidence.
HMS Westminster, a Royal Navy warship set sail for Gibraltar on Monday as part of an annual Mediterranean military exercise which both Spain and Britain say has been long planned and is unrelated to the dispute.
It evoked the 16th century naval rivalry between the two countries in which the English repelled an attempt by the Spanish Armada to try to invade England in 1588 and the Spanish defeated an English "Counter Armada" the following year.
A spokesman for the European Commission Jonathan Todd confirmed on Monday that a team of Commission officials would travel to Gibraltar in September.
"They will be there to verify compliance with EU rules on frontier controls," he said, adding it wasn't clear yet how many EU officials would be involved.