Brazilian Navy incorporates third UK built Amazonas class ocean patrol vessel
Wednesday, August 14th 2013 - 02:58 UTC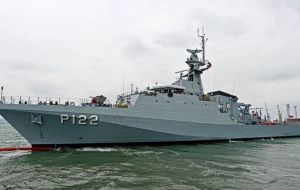 The newest ship in the Brazilian navy's fleet has left the UK on a journey of more than 16.100km to Brazil. "Araguari" which sailed from Portsmouth is the third of three Amazonas class ocean patrol vessels delivered to the Brazilian navy by BAE Systems.
The 1.900 tons, 90m ship, which wields a 30mm canon, two 25mm guns and a helicopter flight deck, is designed to patrol Brazil's shores as well as support humanitarian and search and rescue operations. Following the design of the Royal Navy Class River patrol vessels, besides the crew they can also carry an additional 40 people. She was built at BAE Systems' Scotstoun shipyard and completed in Portsmouth.
Its two sister ships, Amazonas and Apa, were delivered by BAE Systems last year and have already begun operations in Brazil. They have recently played an important role in the security operation for the visit to Brazil by Pope Francis.
The three class ocean patrol vessels contract also includes the licence to build similar vessels in Brazil.
Nigel Stewart, commercial director at BAE Systems Maritime, said: "The success of this program is testament to the strong relationship between BAE Systems and the Brazilian navy as we worked in partnership to deliver these formidable ships. 'Araguari' performed incredibly well through sea trials so we are immensely proud to see her sailing with her first crew".
"We've welcomed more than 250 members of the Brazilian navy to the UK during this partnership and are delighted to play such an important role in growing Brazil's naval capabilities."
Captain Giancarllo Vilas Boas, head of the Brazilian navy support team, said: "We are so proud to take part in this important project for the Brazilian navy. Being in the UK has been a very friendly experience and I hope this project is the start of a long-term relationship between BAE Systems and the Brazilian navy."
"Araguari" will make diplomatic visits in Europe and Africa before crossing the South Atlantic to Rio de Janeiro in September. After a brief stay, she will then proceed to her home port in the north-eastern city of Natal.
Following the ship's handover in June, Araguari's 80 crew members completed the Royal Navy's flag officer sea training, with the support of a team from BAE Systems, to prepare them for the journey and the operations they will perform in Brazil.