Mujica and Cristina Fernandez seal peace at a de-sulphuring plant inauguration
Wednesday, August 28th 2013 - 01:22 UTC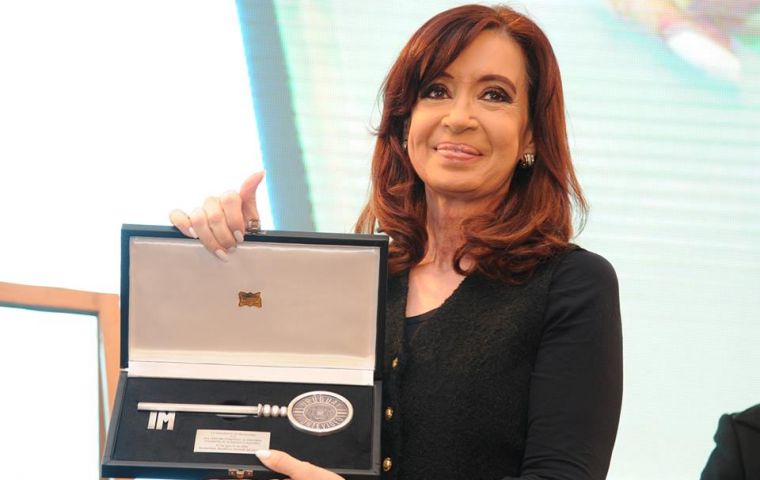 Uruguay and Argentina presidents Jose Mujica and Cristina Fernandez seem to have ironed out differences, at least in public and in the pictures, during the inauguration of a gasoline and diesel de-sulphuring plant in Montevideo, which was financed with Venezuelan funds and Argentine technology.
At the Tuesday mid day ceremony both presidents spoke of regional integration, praised each other and Mujica underlined that the new plant was not "left or right, this government or other governments" but the work of the whole Uruguayan people because only unity can help sustain negotiation capacity in a fragile world.
"We are a small family, a small country, so any differences we might have must be left aside, we can't address what's coming atomized", insisted Mujica who also underlined that conflicts are inevitable and so is the struggle over interests, "but conflicts can be negotiated" and that is the only path for Uruguay.
Mujica made it a point to underline the close relations of Uruguay with Argentina and thanked former Venezuelan leader Hugo Chavez, 'who with his generous benign soft credit system enabled Uruguay to accumulate the necessary funds to finance the plant'.
"If Ancap (Uruguay's oil refining company) did not inaugurate this plant today, Ancap would have been reduced to a junk yard. We had to combat and extract sulphur from fuels, if not we were out of the game: there was no option but to build it", insisted Mujica.
The president also recalled how Ancap was first started in 1931, fighting against the large oil sisters that dominated the world market, and which was achieved by agreeing to a supply contract with the Soviet Union. "That is why in Uruguay we call gasoline, 'nafta' which is the Russian word for gasoline".
But he added at the time Uruguay had a "vigorous, lean, committed state" and nowadays if the country, a developing country does not recover that condition it is condemned to be "a mere toy in the current competitive world".
Finally Mujica addressed the controversy over the government's decision to hand the symbolic key of Montevideo to President Cristina Fernandez, a much criticised figure by the opposition and which according to recent opinion polls is the least loved of regional leaders by Uruguayans.
"Countries don't move; they are prisoners of their geography and the contribution from the Argentine people to Uruguay is incommensurable" affirmed Mujica.
President Cristina Fernandez took off her speech interrupted by a crowd of young militants who cheered and sang with banners and flags in support of the Argentine leader. They belonged to La Campora, a youth group commanded by her son Maximo Kirchner and which have been generously supplied with funds and jobs in government companies and institutions. They were flown in for the occasion.
"I want to start by thanking the deference and honour of having given the Argentine president the keys of Montevideo. There's always a confusion between the person who has a post and the job itself, the honour is not for the person but in her representation, and in this case it is the Argentine people, thank you so much", said Cristina Fernandez.
Speaking about the plant, the 400 million dollars investment and Argentina's YPF involvement, the president said it was an exceptional case, even when many Argentines have invested much more in real estate because they consider Uruguay their second home.
"We are convinced we can help Uruguay have hydrocarbons and that they contribute to regional integration. Our lands have been blessed by marvellous soils and we need to inject added value to that production and this is not possible without energy. The energy ring is essential for integration".
The president also made it a point to congratulate the Uruguayan people because Ancap has always been a government corporation and when there was a referendum to decide on privatization in the nineties "the intelligent and foresighted Uruguayan people voted overwhelmingly to retain them as a public asset, which belongs to all the people, so again my congratulations".
Integration is a wide engulfing word said Cristina Fernandez, "integration is infrastructure, is energy and that is what we are doing today with this plant, and so is tourism integration which Argentina does in all neighbouring countries".
And integration should also make the region proud, because "we are not nationalism with symbols and banners; just look at other places in the world; we instead in the last decade have been able to solve all our conflicts in peace. We have no pending conflicts in the region".
Ancap president Raul Sendic underlined the significance of the de-sulphuring plant, not only the 400 million dollars investment but it "ensures quality products and we won't have to rely on imports and refined products".
Marcelo Abdala, a union leader spoke in representation of the plant's workers and pointed out that Uruguay's organized labour believes regional integration is the only path ahead, and addressing the Argentine president added that "as with the critics of giving you the keys of Montevideo, all belonging to right wing parties, to emphasize that integration let's reinforce it and make trade among countries much easier. Otherwise it's fodder for the right-wingers who don't stand you or organized labour".
The plant has the capacity of processing the equivalent of 18.000 barrels of fuel per day, and eliminating 40 tons of sulphur which will be used in making agriculture fertilizers. This will bring the sulphur content of gasoline and diesel to a minimum, according to Ancap engineers.
However it must be added that the plant is also the result of refining Venezuelan oil, traded at very favourable financial conditions for the buyers, but it is also "a heavy" crude with a very high content of sulphur, thus the need to adapt the Ancap refinery by adding a system to eliminate the multivalent non metal.