Spain plans to damage Gibraltar economy by fining companies in the bunkering business
Friday, August 30th 2013 - 23:58 UTC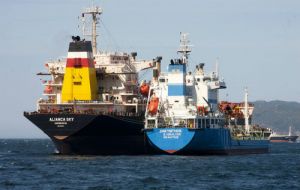 Spain plans to fine bunkering companies operating in Gibraltar waters sums of up to two million Euros and the Finance ministry was planning to ban the sale of petroleum products to the Rock, particularly since they pay no VAT.
The move was unveiled by Spanish Environment Minister Miguel Arias Cañete, who said Spain will publish new regulations permitting fines on operators of permanently-anchored floating storage tankers and their clients.
The legislative step is designed to target operators in Gibraltar waters, even though Spain has no jurisdiction in this area of sea where two companies use large tankers to store fuel. It seeks to sanction an activity that Spain claims poses "a potential risk" to the environment, Cañete was quoted in the Spanish media.
But the argument held little sway with Gibraltar's Chief Minister Fabian Picardo, who said Spain had no say in waters that were defined as British by the UN Convention on the Law of the Sea. "This is Spain legislating extra-territorially for something that is beyond the jurisdiction of Spain" Mr Picardo told the Gibraltar Chronicle.
The Chief Minister said any attempt by Spain to impose fines on Gibraltar-based companies or their clients would amount to "absolute bad faith" by the Spanish Government.
"If the Spanish Government decides to take that line, it is a huge escalation of the way that they are dealing with this issue," he added.
Likewise Spain's Ministry of Finance described as "cynical" and "hypocritical" that Spain sells Gibraltar goods without charging VAT and then these are "used for contraband". According to a report in El Mundo on Thursday, the ministry was seeking to prohibit the sale of petroleum products to Gibraltar by Spanish companies that are then sold from bunkering ships.
The report said that Spain had sold Gibraltar 2.1 billion Euros of fuels products in 2012 up from 1.2 billion Euros in 2011.