Argentine officials admit inflation is higher than the official release from Indec
Monday, September 2nd 2013 - 19:49 UTC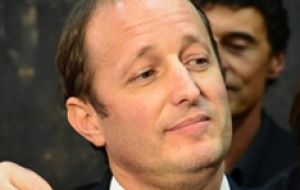 President Cristina Fernandez Victory Front's parliamentary candidate for next October mid-term election, Martín Insaurralde admitted on Monday that inflation rate is higher than the one released by INDEC statistics agency although the agency is "transparent" and "must readjust to times and realities."
"I believe inflation is higher and it affects various sectors of the society" the Lomas de Zamora Mayor said adding "it is part of the reality of each home. It's different depending on each sector and each place."
However the Kirchnerite candidate warned that Indec inflation was well below the salary increases obtained by organized labour during the round of negotiations.
"Any (inflation) index was well below the salaries' increases obtained by organized labour for any sector during the round of negotiations and the same can be said of the pensions' schemes. I live in Argentina, I have a family and I can see that the Indec family basket has many products but not everyone buys the same amount or sort of goods."
Insaurralde further on defended the 'transparency' of the Indec methodology to measure price increases although admitting changes must be implemented. "I think it is transparent, but must be readjusted to changing times and reality. It's always good to change to improve".
Last week Insaurralde admitted in a television interview that the government "must correct Indec numbers" and address the insecurity issue which is also a major concern of Argentines.
In a recent meeting of Cristina Fernandez with business leaders in Rio Gallegos, although closed to the media some of the participants said that the president had admitted that 'inflation is a problem' and even confessed it could be higher than official percentages, but a new consumer prices index was in the pipeline and would be made public before the end of the year.
Economy minister Hernan Lorenzino advanced some weeks ago that the new CPI, contrary to the current one, will provide price references not only of the Great Buenos Aires but of all the (24) provinces. "A country as vast as Argentina needs indexes which reflect all that is happening in the whole of the country".
The carefully worded statements from Insaurralde means 'inflation' is ceasing to be a taboo issue and the new scheme, as demanded by the IMF, could be announced before the October election.