"Go ask Obama why US refuses to support Argentina in dispute with vulture funds"
Friday, September 6th 2013 - 01:30 UTC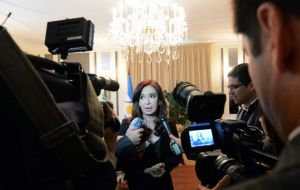 President Cristina Fernández spoke out against the US refusal to discuss Argentina's dispute with the so-called 'vulture funds', (and its inclusion in the final declaration) during the G-20 meeting in Moscow, Russia.
"If you see Barack Obama walking down the halls, go ahead and ask him", the head of state fired at Thursday press conference. However "I can't attribute intentions to anybody, it would not be serious" and emphasized on the importance of including "the debt issue and the sustainability of the debts" in the topic list of the G-20 final resolution.
The government of President Cristina Fernandez is increasingly disappointed with the White House for the lack of support to Argentina in the litigation with the defaulted bond holders who refuse to accept restructuring and demand full face payment plus interests.
This was further boosted by the latest ruling from the New York appeals court that sustained the bond holders' position. Argentina is hoping the case will be taken by the US Supreme Court following the summer recess.
The world leaders of the 20 most powerful nations are debating the main concerns of the international community, where the principle matter is the situation in Syria and a possible US strike in that country.
On the margins of the St. Petersburg G20 Summit, Cristina Fernández met with her Chinese counterpart Xi Jinping and singed several cooperation and strategic agreements.
"It has been a very important encounter in which we strengthened cooperation ties between the People's Republic of China and our country besides signing important agreements" Cristina Fernández said and stressed China's renewed support to Argentina's sovereignty claims over the disputed Falklands/Malvinas Islands.
Argentina's rail system has also received stimulus from Chinese investment sealing bilateral deals to improve and reactivate several passenger and cargo services with one of them involving 1.5 billion dollars investment.
Prior to the signing of the accords, Cristina Fernández de Kirchner pointed out China is Argentina's "second largest trade partner after Brazil." "It is extremely important for us the work and ties with China which not only we consider a significant partner buy a friend country," the President said as leader Xi Jinping praised Argentina's current economic and social scenarios.
"With you, Argentina has reached economic growth with sustainable development and Argentina's influence in the world has also been brought out during your administration," China's Xi Jinping said.
Cristina Fernández also held meetings with Japan's Prime Minister Shinzo Abe with whom she discussed Argentina's sovereign debt agenda and with the newly elected chief of the World Trade Organization (WTO), Brazilian Roberto Azevedo.