Cristina Fernandez trusts Teheran and hopes for cooperation in the AMIA case
Wednesday, September 25th 2013 - 08:02 UTC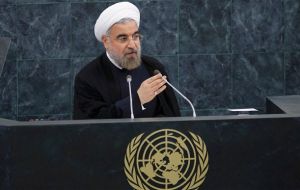 President Cristina Fernandez during her speech to the UN General Assembly said she hoped that the new Government in Iran would cooperate with Argentina in relation to the clarification of the attack on the Asociación Mutual Israelita Argentina (AMIA) in Buenos Aires in 1994.
Cristina Fernandez was one of scores of leaders to speak at the annual General Assembly session at which heads of state and government and other high-level officials present their views and comments on issues of individual, national and international relevance.
The Argentina/Iran project, which commits both countries to commit to an investigation into the perpetrators of the deadly bombing, is subject to uncertainty in Iran where it remains in legal limbo.
"We are hoping they will tell us that the agreement has been approved (in Iran) and to settle a date where a Judge will be able to fly to Tehran", urged the Argentine president.
Cristina Fernández said she was looking forward to "a willingness for agreement" on the part of Iran's current president Hassan Rouhani, who spoke earlier in the Assembly and assured that "Iran is no threat to the world".
"In my country the treaty was approved nine months ago. Almost a baby about to be born…We have complied with its terms and for those who considered it inconvenient, let me tell you that after 19 years with no response from Teheran authorities, I think we were right when we argued it was an instrument to help untangle the matter", said Cristina Fernandez.
Referring to the new government apparently 'more moderate', "let's hope that this new elected leader of whom I read statements saying that he does not deny the Holocaust, he let us know if the treaty was approved or not, and if so when so we can have a date to send an Argentine magistrate to Teheran, because we're not afraid of Teheran, on the contrary we trust people".