Uruguay signs Tax Information Exchange Agreement with the UK
Thursday, October 17th 2013 - 20:52 UTC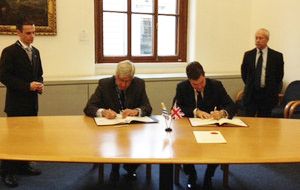 United Kingdom and Uruguay have signed in London a Tax Information Exchange Agreement, TIEA. The Agreement will come into effect as soon as each government has completed the necessary procedures to give effect to it under its domestic laws.
The Agreement will enable the UK and Uruguay to exchange information to the Organization for Economic Co-operation and Development, OECD, and to international tax standards to ensure that the right amount of tax is paid in each country in the future. This document is part of a policy adopted by G8 countries this year, under the UK presidency.
Uruguay has signed 26 agreements, 14 DTC (Direct Tax Code) and 12 TIEA (Tax Information Exchange Agreements) providing for the exchange of information. This shows the country's willingness to implement global standards plus allowing it to move up to the OECD list of those countries that have 'substantially implemented the standard for exchange of information'.
The TIEA was signed by Mr. David Gauke, Exchequer Secretary to the Treasury, and Julio Moreira Morán, Uruguayan Ambassador to London. The text of the TIEA can be accessed on the HM Revenue & Customs website.
In related news the British embassy in Montevideo has supported with English courses staff belonging to Uruguay Immigration Officers that work in different parts of the country. This includes personnel at Montevideo's Port and Airport plus Colonia, Salto, Paysandú, Maldonado and Fray Bentos.
Attended staff to the English course also received a manual and a practical handbook with useful phrases.
The project builds on the success of a previous joint project: in 2012 the British Embassy supported the creation of a bilingual manual with useful phrases in English and Spanish for police officers and offered English courses for those working in Montevideo and Colonia.
Both courses were delivered by The Anglo Institute.