Argentine business leaders 'positive' about Cristina Fernandez re-re-election chances fading
Saturday, October 19th 2013 - 15:23 UTC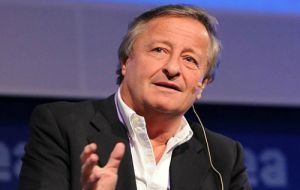 Leaders of the Argentine business sector find "positive" that possibilities of Cristina Fernández re-re-election are fading, said FIAT Argentina CEO Cristiano Ratazzi who also questioned the so-called Kirchner development-inclusion model.
"Democracy works as it is supposed to work, with people alternating in power and with no sense of risks of totalitarianism. Therefore, there is a significant optimism among businessmen," Ratazzi told reporters but hoped for "much more than ten years of development" so that Argentina "regains a position in the world it lost" during the 90's neo-liberal decade that led to the country's deindustrialisation.
Following with his analysis on the domestic scenario, Ratazzi took the chance to question high inflation trends affecting growth. "Inflation problems are pretty much serious, I hate inflation. I would like to be at 5% levels," the FIAT chief considered.
"We as well want one-digit inflation rates but talks must be held with those that set prices, the government is certainly not raising prices," head of the pro-government CGT labour confederation Antonio Caló fired back calling on union, business and political sectors to be "responsible."
"We have to work along each other and set an agreement so that inflation drops," Caló said ramping up his criticism of Ratazzi.
"It makes me feel sorry listening to an Argentine entrepreneur that makes money in Argentina criticizing this model. There has to be an internal criticism, we must work all together for the country's good," the union leader assured.